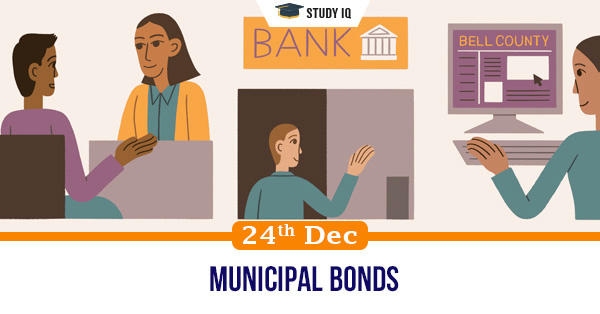 Municipal bonds
Date: 24 December 2020
Tags: miscellaneous
Issue
The Vadodara Municipal Corporation (VMC) is expected to launch municipal bonds, and will become the third Urban Local Body (ULB) in Gujarat to use this method to raise money.
Details
Ahmedabad was the first city in south Asia to launch a municipal bond of Rs 100 crore in 1998, which was completely subscribed.

Surat Municipal Corporation was the second city in Gujarat to announce bonds in 2018, to fund a sewage treatment project worth Rs 450 crore.

The VMC is riding on the favourable credit ratings from two agencies for two proposed bonds of Rs 100 crore each, and expects to issue the bond at the exchange by January 2021.

The United States Treasury Department is also providing the VMC with the technical assistance and guidance for proposed Municipal Bond under the India-US Economic and Financial Partnership programme.

The municipal bond is seen as a dynamic debt instrument which will lower the annual liability component of the VMC currently from about Rs 45 crore to Rs 35 crore.
Municipal bonds
A municipal bond is a kind of debt instrument where investors offer loans to local governments. They are issued by civic bodies for specific projects and usually have a 10-year tenure.

The ULB pays the annual interest on the bonds to the investor at the decided rate. The difference between a bank loan and a municipal bond is that any institution can secure a bond only if it has favourable credit ratings.

The bond helps raise funds from the stock market. The bond also increases the number of investors available to the civic body, as compared to a loan from a single bank. Bonds are issued to institutional and high networth individuals.

The face value of each instrument slot of a municipal bond if a minimum of Rs 10 lakh. It can be subscribed by a single investor or multiple investors.

Under the Atal Mission for Rejuvenation and Urban Transformation (AMRUT) scheme, urban local bodies (ULBs) are encouraged to tap the bond market.

Bonds help ensure improved credit profiles, direct transfer of funds by the Centre, transparency and efficient revenue generation.