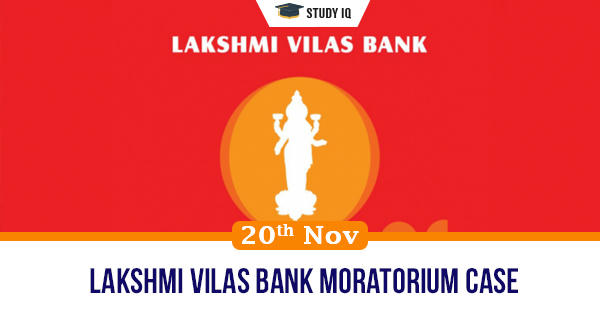 Lakshmi Vilas Bank moratorium case
Date: 20 November 2020
Tags: miscellaneous
Issue
The Reserve Bank of India has decided to impose a 30-day moratorium on Lakshmi Vilas Bank Ltd (LVB) and put in place a draft scheme for its amalgamation with DBS Bank India, a subsidiary of DBS of Singapore.
Background
After the failures of IL&FS, Punjab & Maharashtra Cooperative Bank, and DHFL, and the bailout of Yes Bank, concern about financial system of our country has arisen.
Details
The financial position of the LVB has undergone a steady decline, with continuous losses over the last three years eroding the bank's net-worth.

The bank has not been able to raise adequate capital to address these issues. It was also experiencing continuous withdrawal of deposits and low levels of liquidity.

Almost one fourth of the bank's advances have turned bad assets. Its gross non-performing assets (NPAs) stood 25.4% of its advances as of June 2020, as against 17.3% a year ago.

The bank management had indicated to the RBI that it was in talks with certain investors, but failed to submit any concrete proposal.

The combined balance sheet of DBS India and LVB would remain healthy after the proposed amalgamation, with Capital to Risk Weighted Assets Ratio (CRAR) at 12.51% and Common Equity Tier-1 (CET-1) capital at 9.61%, without taking into account the infusion of additional capital.

In the case of LVB, equity capital is being fully written off. This means existing shareholders face a total loss on their investments unless there are buyers in the secondary market who may ascribe some value to these.

NPAs in the banking sector are expected to increase as the pandemic affects cash flows of people and companies.

NPA accretion in cash-rich sectors like IT, pharmaceuticals, FMCG, chemicals, automobiles is expected to be smaller when compared to areas like hospitality, tourism, aviation, and other services.
Moratorium
A moratorium is a temporary suspension of an activity or law until future considerations. A moratorium may be imposed by a government, by regulators, or by a business.

Most of the time, moratoriums are intended to alleviate short-term financial hardship or provide time to resolve related issues.

Moratoriums are often imposed in response to temporary financial hardships. For example, a business that has exceeded its budget might place a moratorium on new hiring until the start of its next fiscal year.