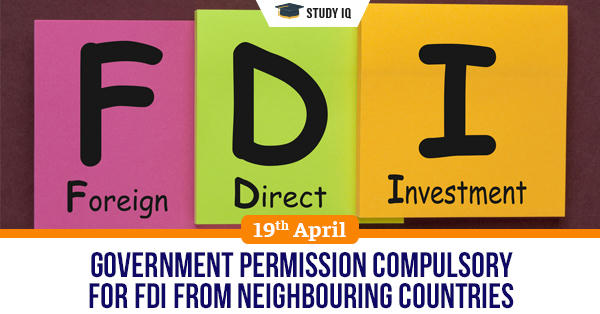 Government permission compulsory for FDI from neighbouring countries
Date: 19 April 2020
Tags: miscellaneous
Issue
The Centre has made prior government approval mandatory for foreign direct investments from countries which share a land border with India. Previously, only investments from Pakistan and Bangladesh faced such restrictions.
Background
The revised FDI policy is aimed at "curbing opportunistic takeovers/acquisitions of Indian companies due to the current COVID-19 pandemic.
Details
Last week, housing finance company HDFC informed the stock exchanges that the People's Bank of China now holds a 1.01% stake in the company. This was an instance of portfolio investment through the stock market and not FDI.

A non-resident entity can invest in India, subject to the FDI Policy except in those sectors/activities which are prohibited.

However, an entity of a country, which shares land border with India or where the beneficial owner of an investment into India is situated in or is a citizen of any such country, can invest only under the Government route.

Investors from countries not covered by the new policy only have to inform the RBI after a transaction rather than asking for prior permission from the relevant government department.

The official statement added that a transfer of ownership of any existing or future FDI in an Indian entity to those in the restricted countries would also need government approval.

Major Chinese investments in India span a range of sectors. Perhaps the most underestimated aspect of Chinese investment has been the way that Chinese capital now undergirds the technology start-up space in India, with Chinese venture capitalists funding household names such as Paytm, Flipkart, Swiggy, Zomato, Oyo, Ola, BigBasket, Byju's, SnapDeal, Quikr and MakeMyTrip.
FDI
A foreign direct investment (FDI) is an investment made by a firm or individual in one country into business interests located in another country.

Generally, FDI takes place when an investor establishes foreign business operations or acquires foreign business assets in a foreign company.

However, FDIs are distinguished from portfolio investments in which an investor merely purchases equities of foreign-based companies.