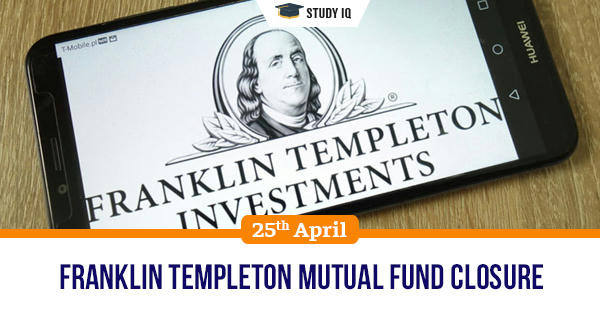 Franklin Templeton Mutual fund closure
Date: 25 April 2020
Tags: miscellaneous
Issue
Franklin Templeton Mutual Fund, the ninth largest in the country, has jolted investors with its decision to wind up six yield-oriented managed credit funds.
Background
The six schemes — Franklin India low duration fund, dynamic accrual fund, credit risk fund, short term income plan, ultra short bond fund and income opportunities fund — have combined assets under management of nearly 25% of the total assets under management of Franklin Templeton MF in India.
Details
The fund house has said it took the decision in order to protect value for investors via a managed sale of the portfolio, amid the severe market dislocation and illiquidity caused by the COVID-19 pandemic. Investors, however, are bracing for substantial losses.

It essentially means that Franklin Templeton MF will first liquidate the assets in the schemes and then return the money to investors.

With the market situation tough for now, investors may not get an immediate exit. Industry insiders say the fund house may find it difficult to get a buyer for the low-rated assets in the portfolio, so investors may have to wait.

On the other hand, if the fund house pushes hard to get new buyers for those assets, it will go at a substantial haircut, which would mean a big loss for investors on their capital investment.

The fund house said the ongoing liquidity crisis in the market has impacted higher yielding, lower-rated credit securities in India and, since these six schemes had direct exposure to them, and they have been impacted.

While all credit risk funds invest up to 65 per cent in bonds rated AA or below, market experts say that fund managers can lower their risk by following a higher diversification strategy.
Credit risk funds
Credit risk funds are debt funds that play on the principle of high-risk-high-reward. By definition, credit funds invest 65 per cent of the portfolio in bonds that are AA rated or below, and investors must be aware that they are investing in schemes that are investing in lower-rated papers.

While higher-rated bonds of companies are more secure and offer lower interest rates, credit risk funds generally invest in lower-rated bonds which offer higher return but also carry a higher risk.
Mutual funds
A mutual fund is a type of financial vehicle made up of a pool of money collected from many investors to invest in securities like stocks, bonds, money market instruments, and other assets.

Mutual funds are operated by professional money managers, who allocate the fund's assets and attempt to produce capital gains or income for the fund's investors.

Mutual funds give small or individual investors access to professionally managed portfolios of equities, bonds, and other securities.