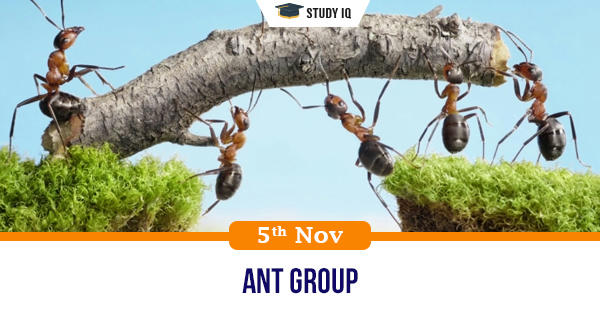 Ant group
Date: 05 November 2020
Tags: miscellaneous
Issue
The scheduled initial public offering (IPO) of Ant Group has been delayed, after its plans of listing on the Shanghai and Hong Kong's stock exchanges were prevented by authorities.
Background
The listing was suspended after the regulators had a meeting with Ant Group founder Jack Ma and other top executives of the company.
Details
In 2004, Alibaba, started to build out a super fast payments platform, which it said would enable its users to make payments easily.

In order to capitalise on the various offerings of Alipay, Ma brought it under a company called Ant Financial. The company was later re-christened as Ant Group.

In China, lending is a very tightly regulated state subject, with the government and regulators being very uncomfortable with the idea of third-party technology driven apps venturing into the consumer lending business.

In October this year, Ma criticised China's state machinery's financial regulations as outdated, which were stifling innovation in the sector.

For now, the Ant Group will have to change its working practices in order to satisfy the authorities if it wishes to float a new IPO.
IPO
An initial public offering (IPO) refers to the process of offering shares of a private corporation to the public in a new stock issuance. Public share issuance allows a company to raise capital from public investors.

Companies hire investment banks to market, gauge demand, set the IPO price and date, and more.

An IPO can be seen as an exit strategy for the company's founders and early investors, realizing the full profit from their private investment.
Secondary offering
A secondary offering is the sale of new or closely held shares by a company that has already made an initial public offering (IPO).

There are two types of secondary offerings. A non-dilutive secondary offering is a sale of securities in which one or more major stockholders in a company sell all or a large portion of their holdings.

The proceeds from this sale are paid to the stockholders that sell their shares. Meanwhile, a dilutive secondary offering involves creating new shares and offering them for public sale.