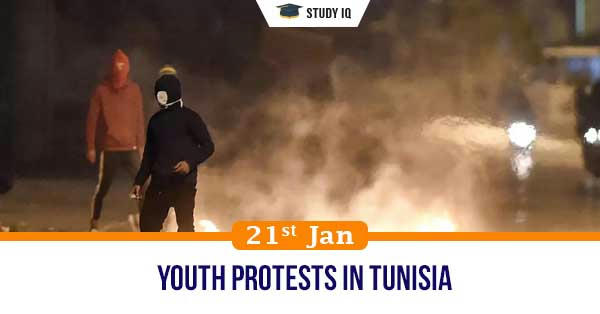 Youth protests in Tunisia
Date: 21 January 2021
Tags: Miscellaneous
Issue
Large number of youth protests are sweeping Tunisia, tapping on the economic frustration swelling against the government policies.
Background
The protests are significant because it is here that the start of Arab Spring revolution happened in 2011 that changed the politics of the region.
Details
A third of the North African nation's young people are unemployed and many are angry about their stagnant fortunes.

They have taken to the streets in violent demonstrations across the country of 11.7 million from the capital of Tunis, to the cities of Kasserine, Gafsa, Sousse and Monastir.

The protests have led to a muscular response from authorities who fear a repeat of the protests that led to the ousting of strongman President Zine al-Abidine Ben Ali 10 years ago.

The groups have been pelting municipal buildings with stones, throwing Molotov cocktails, looting, vandalizing and clashing with police.

The unrest is concentrated in poor, densely populated districts where trust with law enforcement is already lacking.
Reasons for protest
The reasons are unclear but the poor economic outlook of the stagnant North African country is at the heart of the dissatisfaction.

The protesters are angry over the broken promises of democratically elected President Kaïs Saied and his government. A third of Tunisia's youth are unemployed and a fifth of the country lives under the poverty line.

The pandemic has especially hurt Tunisia's key tourism sector, once powered by its beautiful historic cities and white sandy beaches.