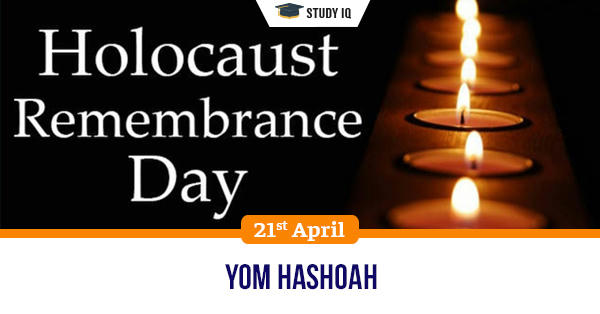 Yom HaShoah
Date: 21 April 2020
Tags: Miscellaneous
Issue
While the world commemorates International Holocaust Remembrance Day on January 27, on the anniversary of the liberation of the Nazi concentration camp and extermination camp of Auschwitz-Birkenau, in Israel, the Shoah, the term in Hebrew for the holocaust, is remembered on a different day.
Background
In March 1951, the Knesset began discussing proposed dates for an official day of remembrance for the Yom HaShoah, the three of which were 10 Tevet; Passover; and September 1, the date on which the Second World War started.
Details
The date for the Yom HaShoah is set in accordance with the Hebrew calendar and hence, unlike the International Holocaust Remembrance Day, it does not have a fixed date. This year, it is being observed from April 20 to 21.

According to the Hebrew calendar, Yom HaShoah begins on the 27th day of the month of Nisan at sunset, and ends on the evening of the following day, in accordance with the Jewish custom of marking a single day.

In Israel, Yom HaShoah is remembered during a state ceremony conducted at the Yad Vashem in Jerusalem, Israel's official memorial to the victims of the Holocaust, held on the evening of the 27th day of the month of Nisan.

On the following morning, a public siren across the country brings everything to a halt for two minutes, during which all work is paused and a people stand in solemn silence in remembrance of the victims of the Holocaust.

Following the sounding of the siren, cars suddenly come to halt as do people in public places. After the end of the silence, a wreath is laid at Yad Vashem. Flags of the State of Israel on public buildings are also flown at half-mast on this day.

The first Holocaust Remembrance Day in Israel occurred on December 28, 1949, approximately 18 months after the State of Israel was established on May 14, 1948.
Holocaust
The Holocaust, also known as the Shoah, was the World War II genocide of the European Jews. Between 1941 and 1945, across German-occupied Europe, Nazi Germany and its collaborators systematically murdered some six million Jews, around two-thirds of Europe's Jewish population.

The murders were carried out in pogroms and mass shootings; by a policy of extermination through work in concentration camps; and in gas chambers and gas vans in German camps, chiefly Auschwitz, Be??ec, Che?mno, Majdanek, Sobibór, and Treblinka in occupied Poland.