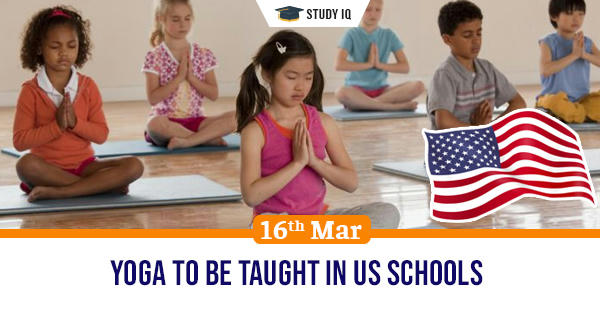 Yoga to be taught in US schools
Date: 16 March 2021
Tags: Miscellaneous
Issue
Alabama State's House of Representatives has accepted a bill that may remove a ban on teaching yoga in public schools.
Background
The bill will allow local boards of education to offer yoga to students from Kindergarten to 12th-grade if brought into action.
Details
Yoga has been defined as "A Hindu philosophy and method of religious training in which eastern meditation and contemplation are combined with physical exercises, in order to facilitate the development of body­ mind­ spirit."

A study found out that use of yoga among adults between age of 18-44 was more than twice that of adults 65 years or older.

If a law is enacted it will give local education board to decide the duration and the frequency of periods for teaching Yoga.

The bill says that the Yoga taught in school will be restricted to poses, exercises and stretching techniques and shall include sitting, standing, reclining, twisting, and balancing.

The poses, exercises and stretching techniques that will be taught will have English descriptive names. Chanting, mantras, use of mandalas and namaste greetings will be prohibited.

There will be prohibition on the use of hypnosis and dissociative mental states. Teachers will not be allowed to use techniques that induce hypnotic states and guided imagery.
Reason for ban
The push for ban was initiated by conservative sections because they felt that it was highly religious. Parents were also concerned about hypnotism and psychotherapeutic techniques that they assumed were part of Yoga.