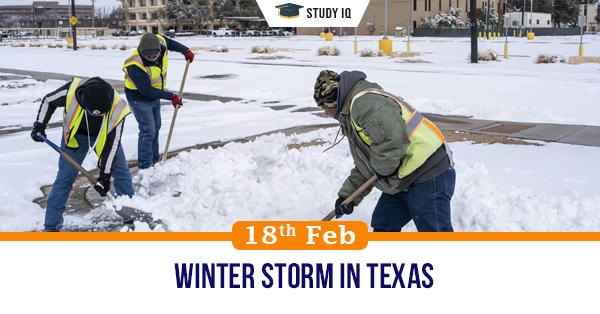 Winter storm in Texas
Date: 18 February 2021
Tags: Miscellaneous
Issue
Texas has found itself in the midst of a rare and brutal blast of winter weather, with temperatures plunging below freezing levels.
Background
Lakhs of people across the US state have been left without power after high demand for electricity caused the power grid to repeatedly fail.
Details
Large number of deaths has been attributed to the unprecedented winter storm 'Uri' so far in the state, with local authorities warning that frigid conditions are likely to continue for another few days.

The sudden cold snap also sent natural gas and power prices soaring to record levels in some parts of the country.

The state's main sources of power were also knocked offline as gas lines were blocked with ice, wind turbines froze and coal piles and thermal energy generators too began falling off the grid.

Texas is the largest oil, natural gas, and wind energy producer in the US. The crisis has arisen not because of a lack of power sources, but rather due to ill-equipped energy infrastructure.
Outcome of blackouts
Following the widespread blackouts in the state, several Covid-19 inoculation centres were forced to shut down, delaying the rollout of vaccines.

Several deaths due to carbon monoxide poisoning have been reported in parts of the United States, as some people resorted to staying in their cars to keep warm.