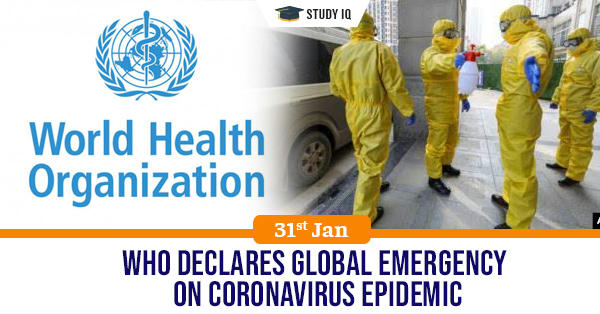 WHO declares global emergency on Coronavirus epidemic
Date: 31 January 2020
Tags: Miscellaneous
Issue
The World Health Organisation (WHO) has declared an international emergency over the deadly coronavirus from China.
Background
The World Health Organisation defines a global health emergency, also known as a Public Health Emergency of International Concern (PHEIC), as an event where disease has the risk to spread internationally.
Details
The WHO's Emergency Committee, an advisory body of international experts, said that evidence had shown that restricting movement of people and goods during public health emergencies may be ineffective and may divert resources from other interventions.

The WHO said there have also been 82 confirmed cases in 18 other countries, including cases of onward transmission in Germany, Japan, the United States and Vietnam.

The designation, which is reviewed every three months, allows the WHO to issue global recommendations that the international community is expected to follow.

The WHO has called a public health emergency of international concern only five times since the relevant legislation took effect in 2007 - for swine flu, polio, Zika and twice for Ebola outbreaks in Africa.

The declaration is often referred to by its initials PHEIC (Public Health Emergency of International Concern), pronounced "fake" but it gives the WHO real capabilities to affect the course of an epidemic.
Implications of Global Emergency
The declaration sends the message that a health emergency is serious.

It encourages nations to cooperate as much as possible by coordinating personnel, funds and other resources, with the WHO at the helm.

By underlining the dangers, the designation can be used to help persuade citizens of infected countries to follow health and hygiene recommendations.

A PHEIC gives the WHO's Emergency Committee authority to recommend travel advisories for cities, regions and countries.

While the recommendations aren't enforceable, there's considerable pressure for countries to abide by the WHO's advisories. Member states are bound by the WHO's 2005 International Health Regulations.