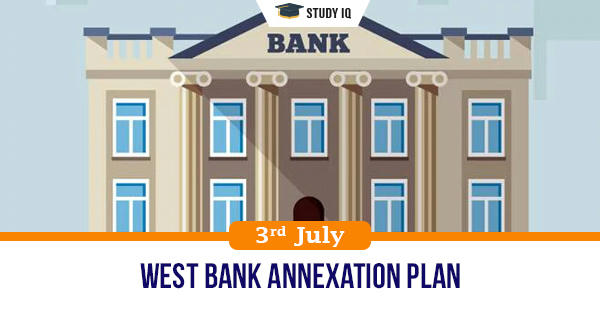 West Bank annexation plan
Date: 03 July 2020
Tags: Miscellaneous
Issue
In 2019, Israeli Prime Minister Benjamin Netanyahu had stated that he had plans to annex the Israeli settlements in the West Bank.
Background
Observers believe that Netanyahu may be in a rush to implement this annexation process while Trump is in office and before the US presidential elections in November.
Details
These annexation plans have been extremely controversial because it would mean Israel unilaterally declaring sovereignty over parts of occupied Palestinian territory in the West Bank.

Such moves by Netanyahu are also contrary to the two-state solution and have the potential to trigger further conflict in the region.

The Palestinians believe that the annexation would prevent their access to essential water resources and key agricultural land, particularly in the Jordan Valley.

Israel is claiming that these settlements that it has established across the West Bank would continue to be Israeli territory under any peace deal with the Palestinians, regardless of their annexed status.

There are concerns that annexation plans may further increase hostilities between the Israelis and the Palestinians, ensuring that peace between the two would be harder to achieve.
West Bank
The West Bank is located on the west bank of the Jordan River and is bounded by Israel on the north, west and south. On the east of this river lies Jordan. Since the Six-Day War in 1967, also known as the Third Arab-Israeli War, the West Bank has been occupied by Israel.

Both Israelis and Palestinians assert their rights to the territory of the West Bank and its disputed status and the conflict has not been resolved as yet.

Also present in the West Bank are some 132 Israeli settlements and 124 unauthorised settlements, along with military outposts.

While the Israeli government and the US under the Trump presidency have insisted that these settlements are legal, the larger international community does not believe so and considers these settlements to be illegal under the provisions of international law.
Gaza Strip
The Gaza Strip is a self-governing Palestinian territory on the eastern coast of the Mediterranean Sea, that borders Egypt on the southwest and Israel on the east and north. Gaza and the West Bank are claimed by the de jure sovereign State of Palestine.
Golan Heights
The Golan Heights is a rocky plateau in south-western Syria. Israel seized the Golan Heights from Syria in the closing stages of the 1967 Six-Day War. Most of the Syrian Arab inhabitants fled the area during the conflict.

An armistice line was established and the region came under Israeli military control. Almost immediately Israel began to settle the Golan.

The topography provides a natural buffer against any military thrust from Syria. The area is also a key source of water for an arid region. Rainwater from the Golan's catchment feeds into the Jordan River.