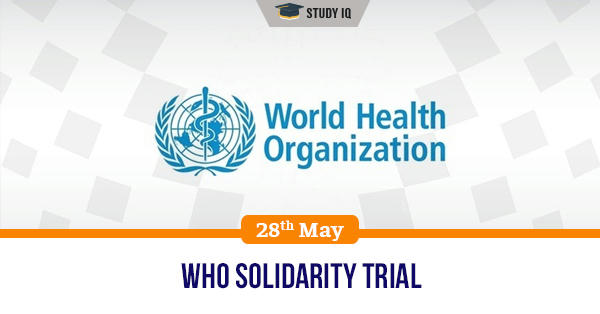 WHO Solidarity trial
Date: 28 May 2020
Tags: Miscellaneous
Issue
The World Health Organization (WHO) has announced it would no longer assign patients to the hydroxychloroquine (HCQ) arm of the multi-country Solidarity Trial on possible treatments for Covid-19.
Background
The announcement raises several questions, particularly in India which is a major manufacturer/exporter of the drug and has also reposed implicit faith in its therapeutic and prophylactic role for health workers exposed to Covid-19 cases.
Details
"Solidarity" is an international initiative for clinical trials launched by the WHO, along with partners, to help find an effective treatment for Covid-19.

It was originally supposed to look at four drugs or drug combinations: remdesivir, HCQ, ritonavir/lopinavir and lopinavir/ritonavir/interferon beta 1a.

Now with HCQ trial enrolment stalled for at least the next few weeks, the Solidarity trial will proceed with the other three arms.

By enrolling patients in multiple countries, the Solidarity Trial aims to rapidly discover whether any of the drugs slow disease progression or improve survival.

Overall, over 100 countries have joined or expressed an interest in joining the trial, and WHO is actively supporting 60 of them.

So far, remdesivir is widely being described as the most promising, although results of various trials have sometimes being conflicting.

Remdesivir is a broad-spectrum antiviral which was previously tested in humans with Ebola virus disease, and which has also shown promise as a drug against MERS and SARS, both of which are caused by coronaviruses.

The drug was found to speed up recovery during a trial and the results were encouraging enough to warrant publication of the results even while the trial was still on.

Ritonavir and liponavir are second-line HIV drugs, known as HIV protease inhibitors, that have been in use for some time. They bolster the immune system, which reduces the chances of a HIV-positive person developing complications such as tuberculosis.