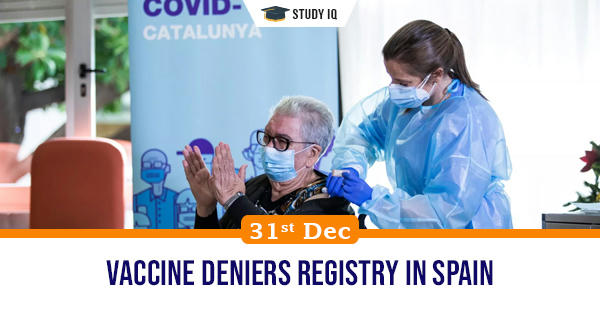 Vaccine deniers registry in Spain
Date: 31 December 2020
Tags: Miscellaneous
Issue
Spain will be maintaining a register of persons who refuse to be vaccinated against the virus and record the reasons behind their refusal.
Background
However, the list would remain private and not be accessible to the public or employers, but will be shared with other European Union nations.
Details
Spain's southern Andalusia region is maintaining a register for quality control purposes that consists of people who are given the vaccine, as well as its batch number and who administered it.

The initiative has been announced in order to address reluctance to get vaccinated, just as many have warned that a third wave of the pandemic might hit Spain.

Critics have warned against potential misuse of the list, saying that it could be used to infringe upon the liberties of people placed in it.

The Spanish government expects that 1.5-2 crore people out of a population of 4.7 crore would get inoculated by June.
Covid-19 situation in Spain
Spain has registered more than 18 lakh infections during the pandemic and the number of deaths crossed the 50,000 mark.

The country has been placed under a nationwide curfew from 11 pm to 6 am until May, and non-essential businesses including restaurants and bars have been closed.