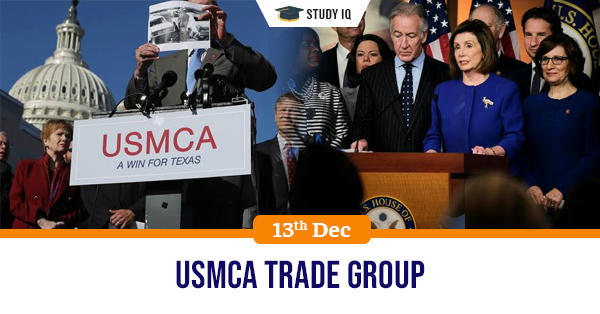 USMCA trade group
Date: 13 December 2019
Tags: Miscellaneous
Issue
Mexico's Senate has approved the revised U.S.-Mexico-Canada (USMCA) trade deal that includes tougher enforcement of worker rights and the elimination of a patent provision for biologic drugs.
Background
Senators approved the changes to USMCA, which was signed more than a year ago to replace the North American Free Trade Agreement (NAFTA).
Details
Once it passes into law in the three countries, USMCA will encompass $1.2 trillion in annual trade across the continent and support 12 million U.S. jobs and a third of American agricultural exports.

Democrats controlling the U.S. House of Representatives had insisted on major changes to labor and environmental enforcement in USMCA before bringing it to a vote in the United States.
USCMCA
The Agreement between the United States of America, the United Mexican States, and Canada is a signed but not ratified free trade agreement between Canada, Mexico, and the United States.

Compared to NAFTA, USMCA increases environmental and labour regulations, and incentivizes more domestic production of cars and trucks.

The agreement also provides updated intellectual property protections, gives the United States more access to Canada's dairy market.

Additionally, there is a stipulation that the agreement itself must be reviewed by the three nations every six years, with a 16-year sunset clause. The agreement can be extended for additional 16-year terms during the six-year reviews.

The deal establishes requirements for currency and macroeconomic transparency which, if violated, would constitute grounds for a dispute appeal.