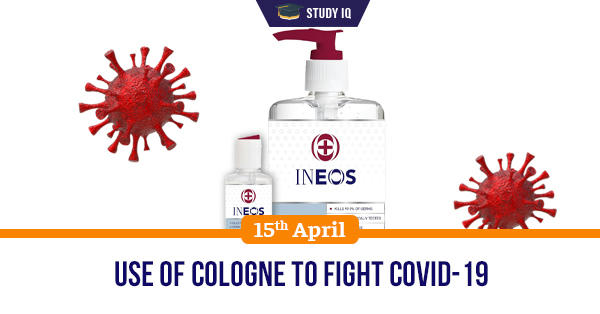 Use of cologne to fight COVID-19
Date: 15 April 2020
Tags: Miscellaneous
Issue
Unlike most other countries, where soap and hand sanitisers have become highly sought-after hygiene products, in Turkey, another liquid solution is in demand-cologne.
Background
Eau de Cologne, or simply cologne, is a perfume that originated in the Cologne city in Germany, and has for more than a century been a highly popular accessory in Turkey.
Details
Cologne became popular in the country due to its 19th century Ottoman ruler Abdul Hamid II. The Sultan was exceedingly fond of the perfume, and would carry bottles everywhere with him. Soon, the accessory became part of Turkish lifestyle and crept into Turkish vocabulary, getting 'Kolonya' as its local name.

Kolonya today is made from ingredients such as jasmine, rose, and fig blossoms, and has a high content of ethanol. The aroma is popularly referred to as the country's national scent, and is recognised as a symbol of Turkish health and hospitality.

Particles of the novel coronavirus (SARS-CoV-2) are spherical and have proteins called spikes protruding from their surface, which invade human cells.

A fatty layer that holds the spikes together is disrupted when it comes into contact with soap or a hand sanitiser with more than 60 per cent alcohol. This disruption causes the virus to come undone, and kills it.

Kolonya's high content of alcohol (around 60 per cent) is known to be effective in killing off germs, and thus serves as a useful hand disinfectant. While more expensive than soap or hand sanitiser, Kolonya's fragrance attracts customers.

The Turkish government has also stopped demanding ethanol blends in petrol, so that enough supplies remain to make Kolonya.

Officials have promised to maintain adequate stocks throughout the pandemic, and retailers have said that they would not increase prices.