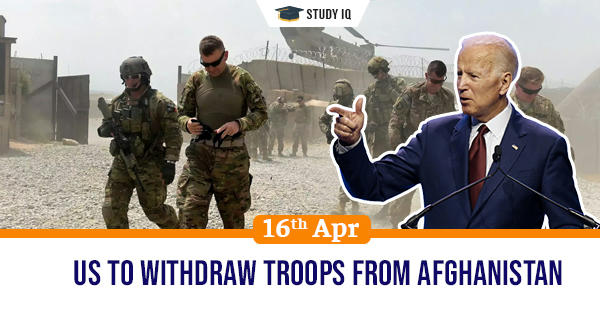 US to withdraw troops from Afghanistan
Date: 16 April 2021
Tags: Miscellaneous
Issue
US president Joe Biden has announced the withdrawal of all the troops from Afghanistan by September 11, 2021.
Background
The announcement to withdraw was part of Trump Presidency, which is being implemented although concerns exist.
Details
The Trump administration had announced withdrawal by May 1 after a peace deal with Taliban was stuck. However, the new announcement does not have bindings of a deal.

About 3000 US troops and 8000 NATO troops are currently stationed in Afghanistan. There will be a coordinated withdrawal soon.

The troops' withdrawal will not only affect Afghanistan but every country in the region is going to have widespread implications.
The Taliban problem
The US government had organised a ceasefire talk to bring peace between Taliban and official Afghan government.

The plan included stakeholder countries such as China, Russia, Pakistan, US, Iran and India. It was not able to arrive at a peace agreement.

Taliban has not agreed to be bound by new agreement as they say that by not following the May 1 deadline, US has violated the Doha agreement.

Taliban is expected to take counter measures such as attacks on US resources and troops stationed in Afghanistan.

Currently, Taliban has hold on about 19% of the country's territory and the government on 32%. The remaining area is contested.

Once the US withdraws, the Taliban is expected to declare themselves as the winner of the war and try to increase their presence. With the current resources, the Afghan government cannot hold them for long.

The return of Taliban will reverse all the gains of the last 15 years. It will be similar to 1990s where the Islamic caliphate controlled the country.
Stake for Pakistan
The capture of Afghanistan by Taliban will bring a friendly force in power in Kabul after 20 years. This is strategically important for Pakistan.

In case a civil war arises, Pakistan will see an influx of refugees in the country. Considering its own problems, it will be catastrophic.
Stake for India
India centric terrorists such as Laskhar- e-Toiba and Jaish-e-Mohamed are expected to get a free run in new administration.

The administration will be run by Pakistani security establishment with more focus on cutting India to size through repeated terrorist strikes.