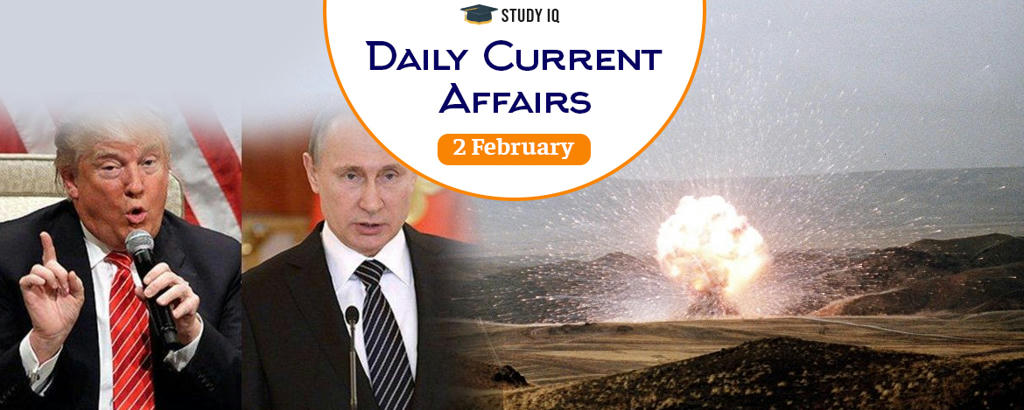 US announces suspension of Intermediate Range Nuclear Forces Treaty with Russia
Date: 02 February 2019
Tags: International Organizations, Miscellaneous
United States announced unilateral suspension from Intermediate Range Nuclear Forces (INF) treaty with Russia. The announcement comes after US and Russia failed to resolve long-running accusation that Russia is violating this cold war era treaty. US will exit this treaty in six months unless Russia assures compliance by destroying all of its violating missiles, launchers, and associated equipment under this treaty.
Reasons for suspension
The suspension comes after US President Donald Trump in October 2018 announced unilateral withdrawal of US from INF treaty.

US alleges that Russia violated this treaty by testing 9M729 ground-launched cruise missile (NATO name SSC-8) in 2014, having range beyond prescribed by this treaty and had deployed the same missile that could strike Europe at short notice.

Russia, however, has denied US accusation saying that relevant missile was never tested at distances banned under the agreement and has called on US to show proof of a violation.

Russia also has accused US of breaching treaty by deploying its missile-defence systems in Europe, a charge which US rejects.

Since then both countries have failed to find resolution using dispute resolution mechanism in treaty.
Intermediate-Range Nuclear Forces (INF) treaty
It was crucial Cold War-era treaty signed in December 1987 between then US President Ronald Reagan and his USSR counterpart Mikhail Gorbachev. (Russia was known as USSR before its disintegration after cold war in early 1990s).

It prohibits US and Russia from possessing, producing or test-flying ground-launched cruise missiles with ranges of 500–1,000 km or (short-range) and 1,000–5,500 km (intermediate-range).

It also covers all land-based missiles, including those missiles carrying nuclear warheads. However, it does not cover sea-launched or air-launched weapons.

The ban under it was originally applied only to US and USSR forces, but its membership was eventually expanded in 1991 to include successor states of former Soviet Union. Thus, it offered blanket of protection to US's European allies.
Significance
This treaty marked watershed agreement between US and USSR which were at centre of arms race during the Cold War.

It was central to ending arms race between two superpowers during cold war and protected US's NATO allies in Europe from Soviet missile attacks.

It was designed to provide some strategic stability in Europe from USSR (now Russia). It had proved to be potent deterrent against any full-scale nuclear war in Europe.

It had resulted in the destruction of 2,692 missiles (US had demolished 846, and Russia destroyed 1,846 missiles). It kept nuclear-tipped cruise missiles off European continent for three decades.