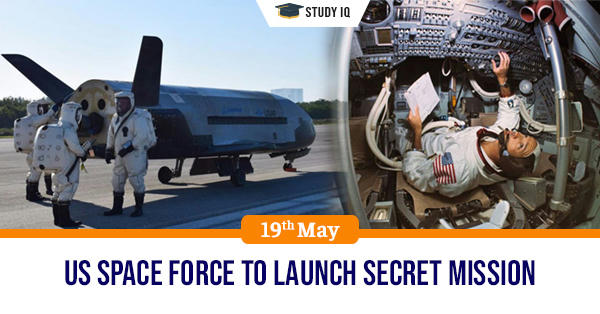 US Space Force to launch secret mission
Date: 19 May 2020
Tags: Miscellaneous
Issue
The U.S. Space Force's mysterious X-37B space plane has been successfully launched on its sixth mystery mission.
Background
Space Force officials have said that the experiments and technology the X-37B carries enables the U.S. to more efficiently and effectively develop space capabilities necessary to maintain superiority in the space domain.
Details
The X-37B - the military's space plane - was launched on board a United Launch Alliance (ULA) Atlas 5 rocket on Sunday from Cape Canaveral in Florida.

The mission is part of the military's "America Strong" campaign, which also includes a series of flyovers by the Air Force Thunderbirds and Navy Blue Angels.

This mission marks the second national security launch under the Space Force since its establishment in December.
US Space Force
The United States Space Force (USSF) is the space warfare service branch of the U.S. Armed Forces, and is one of the eight U.S. uniformed services.

The Space Force is the sixth and youngest branch of the US Armed Forces and the first branch of the military established since the formation of the independent US Air Force in 1947.

The U.S. Space Force is organized as a military service branch within the Department of the Air Force, one of the three military departments within the Department of Defense.

The U.S. Space Force's mission is to organize, train, and equip space forces in order to protect U.S. and allied interests in space and to provide space capabilities to the joint force.

Its responsibilities include developing military space professionals, acquiring military space systems, maturing the military doctrine for space power, and organizing space forces to present to the Combatant Commands.