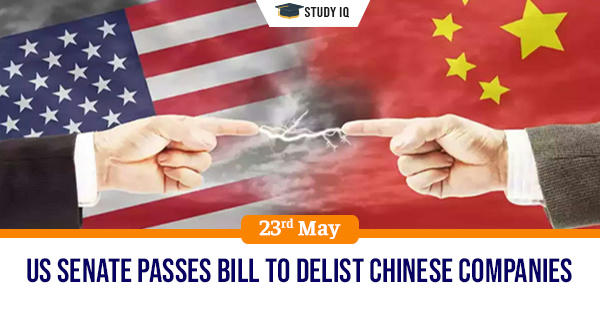 US senate passes bill to delist Chinese companies
Date: 23 May 2020
Tags: Miscellaneous
Issue
The US Senate passed a Bill by a unanimous vote that could delist some Chinese companies from selling shares on American stock exchanges, amid rising tensions between the two countries over the pandemic.
Background
Publicly listed companies should all be held to the same standards, and this bill makes common sense changes to level the playing field and give investors the transparency they need to make informed decisions.
Details
The Bill, titled 'Holding Foreign Companies Accountable Act', was introduced to protect American investors and their retirement savings from foreign companies that have been operating on US stock exchanges while flouting Securities and Exchange Commission (SEC) oversight.

The Bill must be passed by the House of Representatives and signed by US President Donald Trump before it becomes law.

The Bill prohibits securities of a company from being listed on any of the US securities exchanges if the company fails to comply with the Public Company Accounting Oversight Board's (PCAOB) audits for three years in a row.

It also requires public companies to disclose whether they are owned or controlled by a foreign government, including China's Communist government.

The PCAOB was set up to inspect audits of public companies to ensure the information companies provide to the public is accurate and trustworthy. The Chinese government refuses to allow the PCAOB to inspect audits of companies that are registered in China and Hong Kong.

In order to comply with the requirements of the Bill, Chinese companies may have to break state secret laws in China. Therefore, the Bill might be a way to encourage the Chinese government to take a re-look at its laws.

As of November 2019, over 150 China-related legislation were pending in the US with the aim to counter Beijing. The subjects of these legislation include the mass internment of Uygurs, cyber-security and Taiwan and the South China Sea among others.