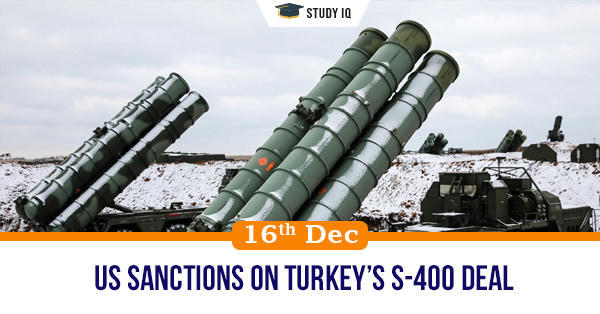 US sanctions on Turkey's S-400 deal
Date: 16 December 2020
Tags: Miscellaneous
Issue
The United States has imposed CAATSA sanctions on Turkey over its acquisition of Russian S-400 air defence systems.
Background
The US has already sanctioned Russia for its actions in Crimea. Any country conducting defence or financial transactions with Russia is also liable to be sanctioned.
Details
With India set to get the consignment of the S-400 air defence system early next year, it is watching Washington's moves closely.

While it has got a waiver from the outgoing Trump administration, Delhi hopes that the incoming Biden administration would not work towards reversing the decision.
S-400
The S-400 Triumf is a mobile surface-to-air missile system (SAM) designed by Russian firm Almaz-Antey Air and Space Defense Corporation JSC.

It is the most dangerous operationally deployed modern long-range SAM (MLR SAM) in the world, considered much ahead of the US-developed Terminal High Altitude Area Defense system (THAAD).

The system can engage all types of aerial targets including aircraft, unmanned aerial vehicles UAV and ballistic and cruise missiles within the range of 400km, at an altitude of up to 30km.

The system can track 100 airborne targets and engage six of them simultaneously. It represents the fourth generation of long-range Russian SAMs, and the successor to the S-200 and S-300.

The S-400 Triumf air defence system integrates a multifunction radar, autonomous detection and targeting systems, anti-aircraft missile systems, launchers, and command and control centre. It is capable of firing three types of missiles to create a layered defence.

The S-400 is two-times more effective than previous Russian air defence systems and can be deployed within five minutes.

It can also be integrated into the existing and future air defence units of the Air Force, Army, and the Navy.
CAATSA
Countering America's Adversaries through Sanctions Act (CAATSA) was signed by US President Donald Trump to counter Iran, Russia and North Korea through stringent measures.

Title II of the Act primarily deals with sanctions on Russian interests such as its oil and gas industry, defence and security sector, and financial institutions, in the backdrop of its military intervention in Ukraine and its alleged meddling in the 2016 US Presidential elections.

Section 231 of the Act empowers the US President to impose at least five of the 12 listed sanctions on persons engaged in a significant transaction with Russian defence and intelligence sectors.

As part of Section 231 of the Act, the US State Department has notified 39 Russian entities, dealings with which could make third parties liable to sanctions.