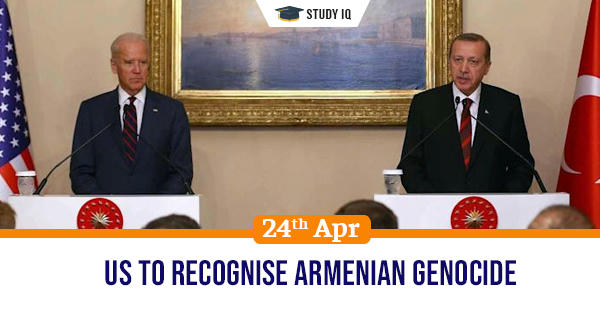 US to recognise Armenian genocide
Date: 24 April 2021
Tags: Miscellaneous
Issue
US President Joe Biden is expected to formally recognise the incident of Armenian genocide that took place during World War I.
Background
The Ottoman Empire was accused of indulging in systematic deportation and killing of thousands of Armenians.
Details
US-Armenian activists have been lobbying hard with the Biden administration to acknowledge the genocide before the Armenian Genocide Remembrance Day on April 24.

The move is expected to further deteriorate the dwindling ties with Turkey. It is expected that Turkey will further gravitate towards Russia.
The event
The Ottoman Empire deported thousands of Armenians from Eastern Anatolia during 1912-1915 that led to starvation, killing and epidemics.

Turkey does not accept the event but historians agree that such an event indeed took place during World War I.

There are no clear numbers on the people dead but Armenians say that about 1.5 million people perished.
Significance of acknowledgement
The acknowledgement by US would open door for other countries also to accept that such event took place. It will be an embarrassment for Turkey on international forum.

About 30 countries have officially accepted the event but countries such as India has not accepted owing to its foreign policy decisions.
Turkey's response
The acknowledgement will further dent the relationship between the NATO allies. Turkey will be further obliged to break its ties with the West.

Turkey could start military action against Kurdish fighters who are allies of US forces and have been targeted by Syrian government.
Way forward
The acknowledgement would only be symbolic and only please Armenian diaspora. Any retaliatory action from Turkey would only weaken its own interests.