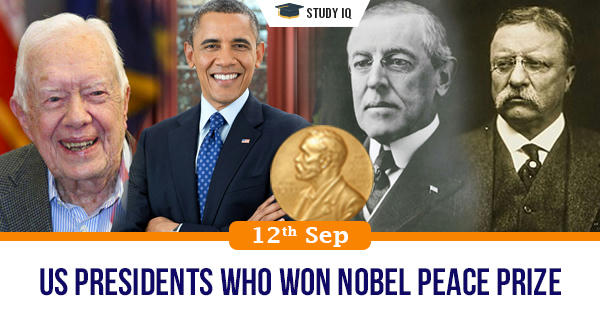 US presidents who won Nobel Peace prize
Date: 12 September 2020
Tags: Miscellaneous
Issue
A Norwegian legislator has nominated US President Donald Trump for the 2021 Nobel Peace Prize for his efforts towards furthering peace in the Middle East.
Background
This is the second time that the legislator has sought the award for Trump. In 2018, along with another Norwegian lawmaker, he had nominated the American leader for his work in reducing tensions between North and South Korea.
Details
Trump has repeatedly expressed his desire for being bestowed with the Peace honour. Earlier this year, he took partial credit for the award given in 2019 to Ethiopian Prime Minister Abiy Ahmed Ali, for the latter's initiative in resolving Ethiopia's border conflict with neighbouring Eritrea.

This year's Nobel Peace Prize is scheduled to be announced October 9. Should Trump win next year, he would become the fifth US President in history to be given the prestigious award.
Roosevelt, the 26th occupant of the White House (1901-09), was not only the first American president but also the world's first statesman to win the honour, five years after the Peace Prize was instituted in 1901.
Roosevelt was given the prize for negotiating peace between imperial Russia and Japan after the Russo-Japanese War of 1904-05. Roosevelt was also praised for his efforts in resolving a dispute between the US and Mexico through arbitration, and for extending the use of arbitration as a means for settling international disputes.
Wilson was given the award for his efforts in ending World War I, and for being the key architect of the League of Nations.
At home, Wilson saw the reduction of import duties, started America's central bank and a national business oversight body, and strengthened anti-monopoly and labour laws. In his second term, the US passed its 19th constitutional amendment giving women the right to vote.
The 39th President was awarded the Peace Prize for his decades of untiring effort to find peaceful solutions to international conflicts, to advance democracy and human rights, and to promote economic and social development.
During his presidency (1977-81), Carter earned praise for his role in bringing about a peace agreement between Israel and Egypt.
The country's 44th President (2009-2017) was given the Nobel Peace Prize "for his extraordinary efforts to strengthen international diplomacy and cooperation between peoples".
Cited among Obama's achievements were his promotion of nuclear non-proliferation, and bringing a "new climate" in international relations.