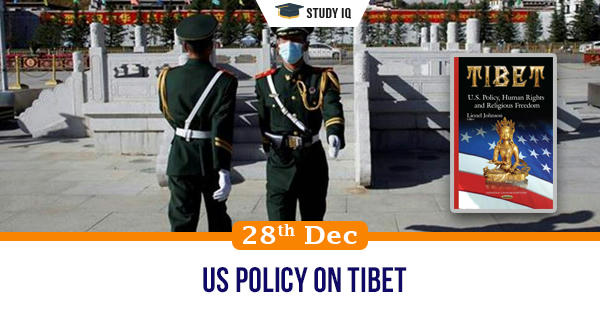 US policy on Tibet
Date: 28 December 2020
Tags: Miscellaneous
Issue
The Tibet Policy and Support Act, passed by the US Senate has further pushed US-China relations into turbulent waters.
Background
The House of Representatives had passed the legislation in January. It will become law after the US President signs off on it.
Details
The TSPA is an amended version of the Tibet Policy Act of 2002, which came into existence during the Bush Administration.

President George W Bush distanced himself from this Congressional action, and wrote strong words against it in his signing statement.
US-China relations
US-China relations have become much more difficult over the last two decades, particularly worsening in the Trump Administration.

Issues ranging from the pandemic to trade tariffs and its cross-world coalition-building against Chinese superpower ambitions have all been part of deteriorating relations.

The Holding Foreign Companies Accounting Act, targeting Chinese investments in the US, was signed into law earlier this month. Earlier in the year, President Donald Trump signed into law the Hong Kong Autonomy Act.
The Dalai Lama issue
Among the most significant amendments is that the TSPA makes it US policy to oppose attempts by Beijing to install its own Dalai Lama.

It also refers to China's installation of a 6-year-old boy in 1995 as the 11th Panchen Lama and to statements by the present Dalai Lama explaining the traditions to be followed in the selection of a Dalai Lama, and that the authority to recognise the reincarnation of a Dalai Lama lies with him and his officials.

The Act also makes it US policy to hold senior Chinese officials responsible for, complicit in, or have directly or indirectly engaged in the identification or installation of a candidate chosen by China as the future 15th Dalai Lama of Tibetan Buddhism.
Protection of Tibet
The TPSA has introduced provisions aimed at protecting the environment of the Tibetan plateau, calling for greater international cooperation and greater involvement by Tibetans.

While the 2002 Act said the US should establish a "branch office" in Lhasa, the TSPA enhances the provisions by changing that to a consulate.
Indian reaction
India has not openly expressed its acceptance of the move. It has mostly refrained from playing the Tibet card against China, and like the US, has a one China policy.