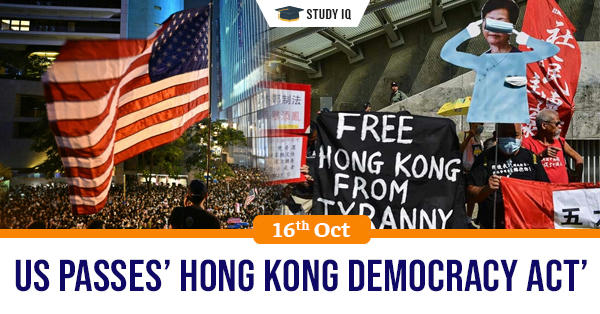 US passes' Hong Kong Democracy Act'
Date: 16 October 2019
Tags: Miscellaneous
Issue
The U.S. House of Representatives has passed a bill that aims to defend civil rights in the semi-autonomous territory of Hong Kong.
Background
Details
The law would end the Hong Kong-U.S. special trading status unless the State Department certifies annually that city authorities are respecting human rights and the rule of law.

Th act requires the U.S. president to identify and sanction people who are responsible for the erosion of autonomy and serious abuses of human rights in Hong Kong.

The House of Representatives has said that the act is just an effoert to force China to honor the government's promises that Hong Kong's rights and autonomy would be protected.
China's response
China has said that U.S. should stop meddling in other affairs and warned China would take strong measures to counter the proposed Hong Kong bill.
Hong Kong protests
Millions of citizens have taken to the streets of Hong Kong, against a now-dropped effort by its leaders to allow extraditions to the authoritarian Chinese mainland.

The months-long movement has expanded into a broader pro-democracy push in the territory where activists say freedoms are being eroded by Beijing to undermine autonomy of Hong Kong.