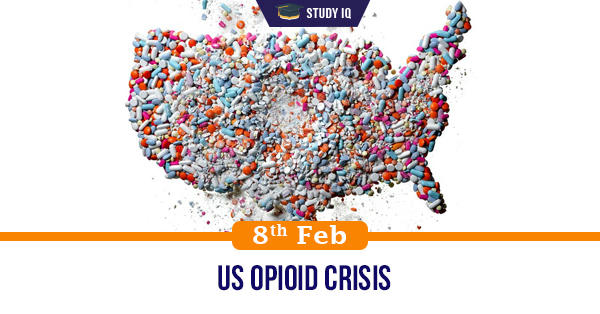 US opioid crisis
Date: 08 February 2021
Tags: Miscellaneous
Issue
Prominent global consultancy firm McKinsey & Co has agreed to pay nearly $600 million to settle claims relating to its role in exacerbating the opioid crisis in the US.
Background
McKinsey was being investigated for its work with US-based drugmaker Purdue Pharma to boost the sales of OxyContin, an addictive pain killer manufactured by the company.
Details
The US is currently going through an opioid overdose epidemic, with over 130 people dying each day from opioid-related drug overdoses.

The misuse and addiction to opioids, including prescription pain relievers, heroin, and synthetic opioids such as fentanyl, has caused a national health crisis that has affected public health as well as social and economic welfare.

The misuse of prescription opioids alone is estimated to cost the US $78.5 billion each year, including the costs of healthcare, lost productivity, addiction treatment, and criminal justice involvement.

The crisis began in the late 1990s, when pharmaceutical companies in the country aggressively marketed prescription opioid painkillers.

As rates of prescription soared, so did the diversion and misuse of drugs, making it clear that they were highly addictive.

Since 2000, prescription opioids, heroin, and fentanyl have been linked to the death of over 4.7 lakh Americans. In 2017, an estimated 1.7 million people suffered from substance use disorders related to prescription opioid pain relievers.
Accusations
State and local governments in the US began filing lawsuits against pharmaceutical companies making and selling opioid drugs for their role in causing the addiction epidemic.

The consulting firm McKinsey came under scrutiny for its advising work for Purdue Pharma, whose painkiller drug OxyContin was among those that fuelled the opioid crisis.

The documents showed that McKinsey advised Purdue to focus sales calls to doctors known to be high prescribers, and to try and move patients to more potent doses of OxyContin.
Opioids
Opioids are substances that have effects similar to those of morphine. Medically they are primarily used for pain relief, including anaesthesia.