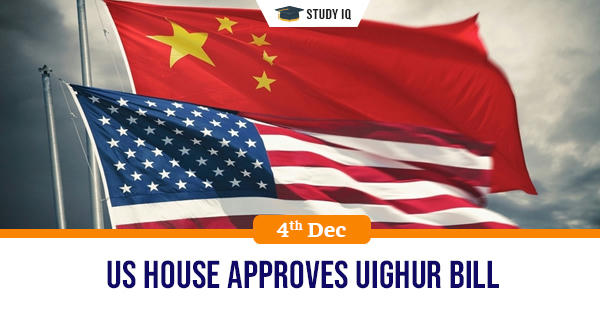 US House approves Uighur bill
Date: 04 December 2019
Tags: Miscellaneous
Issue
The U.S. House of Representatives have approved a bill that would require the Trump administration to toughen its response to China's crackdown on its Muslim minority, the Uighurs.
Background
United Nations experts and activists say at least 1 million Uighurs and members of other largely Muslim minority groups have been detained in the camps, located mainly in Xinjiang province of China.
Details
The Uighur Act of 2019 is a stronger version of a bill that angered Beijing when it passed the Senate in September. It calls on President Donald Trump to impose sanctions for the first time on a member of China's powerful politburo.

The bill requires the U.S. president to condemn abuses against Muslims and call for the closure of mass detention camps in the northwestern region of Xinjiang.

The revised bill still has to be approved by the Senate before being sent to Trump. The President has the power to Veto the bill if he believes that to be in national interest.

The bill also requires the secretary of state to submit a report on abuses in Xinjiang, to include assessments of the numbers held in re-education and forced labor camps.
Uighurs
The Uyghurs alternately Uigurs, are a minority Turkic ethnic group originating from and culturally affiliated with the general region of Central and East Asia.

The Uyghurs have been recognized as native to only one region, the Xinjiang Uyghur Autonomous Region of the People's Republic of China.

They are considered to be one of China's 55 officially recognized ethnic minorities. The Uyghurs are recognized by China only as a regional minority within a multicultural nation and China rejects the idea of them being an indigenous group.

The Uyghurs have traditionally inhabited a series of oases scattered across the Taklamakan Desert.

It is estimated that over a million Uyghurs have been detained in Xinjiang re-education camps. The main feature of the camps is to ensure adherence to Chinese Communist Party ideology.

Voluntary departure from the camps is not possible and Inmates are detained for a minimum of 12 months depending on their performance in Chinese ideology tests.