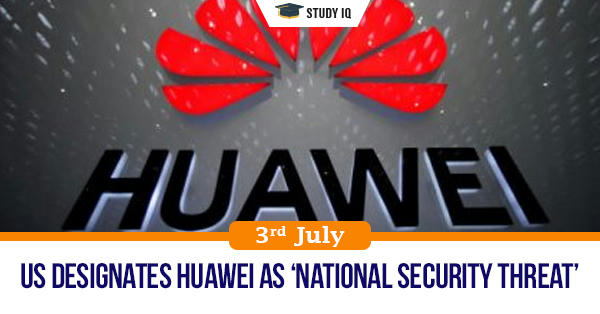 US designates Huawei as 'national security threat'
Date: 03 July 2020
Tags: Miscellaneous
Issue
In a sudden move, the US Federal Communications Commission (FCC) on June 30 formally designated Chinese telecom vendors Huawei Technologies Company and ZTE Corporation, as "national security threats".
Background
The move is expected to put additional pressure on Huawei and ZTE, which have been accused of being close to the Chinese government and spying for them by sharing data of US citizens.
Details
The first official action on the Chinese telecom equipment maker was taken as early as 2012 when the House Intelligence Committee released a report saying both the companies posed a risk to national security and that US businesses should avoid buying equipment from them.

In 2018, US President Donald Trump had said that of the two vendors, ZTE would be able to remain in business in US after paying a fine of $1.3 billion, and providing "high-level security guarantees."

Trump's predecessor Barack Obama's administration had blacklisted ZTE for seven years for violating economic sanction norms imposed on Iran.

Both companies have close ties to the Chinese Communist Party and China's military apparatus, and both companies are broadly subject to Chinese law obligating them to cooperate with the country's intelligence services.

A ban on both Huawei and ZTE could mean an increase of up to 30 percent in cost of telecom equipment across the board, especially when countries all over the world are gearing up to launch 5G services.

Apart from hardware, Huawei has also been trying to make inroads into the software and operating systems (OS) industry.
Effect on India
The US FCC's decision to classify Huawei and ZTE as "national security threats" could put pressure on friendly allies, such as India, to take similar, if not the same action.

The Chinese vendor was a major equipment supplier to companies like Vodafone Idea and Bharti Airtel during the initial roll-out of the 4G services in India.

One of the most important implications could be the loss of the cost arbitrage, as barring Huawei and ZTE from even bidding in the 5G auctions could mean equipment as much as 30 percent costlier.