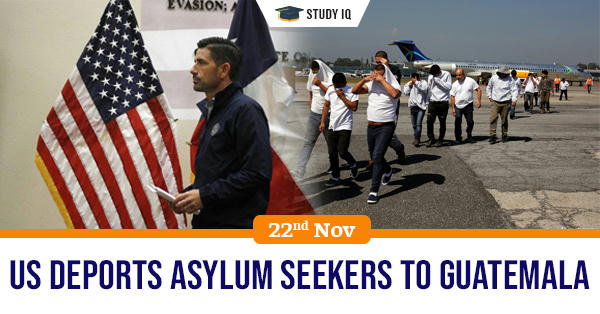 US deports asylum seekers to Guatemala
Date: 22 November 2019
Tags: Miscellaneous
Issue
A foreign asylum seeker was sent to Guatemala under a U.S. agreement designating Guatemala as a so-called safe third country for people fleeing persecution.
Background
The arrival of the individual in Guatemala marks a historic shift in how the United States treats people seeking asylum protections away from its embrace of refugees.
Details
The U.S. government had brokered an agreement with Guatemala in July. The deal allows U.S. immigration officials to make migrants requesting asylum at the U.S.-Mexican border apply for asylum in Guatemala first.

Democrats and activists say it is irresponsible to send vulnerable people to seek shelter in Guatemala, with its high murder rates, tiny asylum system and weak rule of law.

Guatemalan government has said that it would process anybody who wanted to apply for asylum, but noted that United Nations immigration and asylum agencies would be responsible for providing shelter during their stay.

The U.N. International Organization for Migration (IOM) said that the United States had provided it with $10 million to help migrants voluntarily return from Guatemala to their homelands.
Guatemala
Guatemala, a Central American country south of Mexico, is home to volcanoes, rainforests and ancient Mayan sites. The capital is Guatemala City.
It is bordered by Mexico to the north and west, Belize and the Caribbean to the northeast, Honduras to the east, El Salvador to the southeast and the Pacific Ocean to the south.
President: Jimmy Morales (outgoing), Alejandro Giammattei (President elect)
Currency: Quetzai
Location