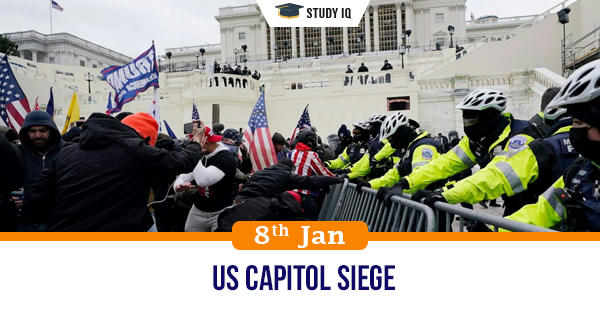 US Capitol siege
Date: 08 January 2021
Tags: Miscellaneous
Issue
Supporters of US President Donald Trump have laid a siege on the US Capitol demanding that the election win of Joe Biden be reversed.
Background
Since his loss to Democrat Joe Biden, Trump has alleged that the election was rigged and his supporters have demanded a rollback of results.
Details
Hours before the rioters stormed the US Capitol, huge crowds of Trump supporters had already filled the streets to protest against the certification of Biden's victory in the 2020 presidential election.

Many had even camped out overnight to catch a glimpse of President Trump and his top advisors and family members at the 'Save America Rally'.

The lawmakers had gathered for a joint session in the House of Representatives to count the electoral votes.

Several lawmakers, including Republicans, have blamed Trump for the violence that broke out in and around the Capitol.

Following the mayhem that ensued within the halls of the Capitol, more than a dozen house Democrats renewed calls for Trump's impeachment before inauguration day.

Top ranking White House officials have announced their resignation in the wake of the violent protests and several others are considering resigning.
US Capitol
The United States Capitol is the meeting place of the United States Congress and the seat of the legislative branch of the U.S. federal government. It is located on Capitol Hill in Washington.