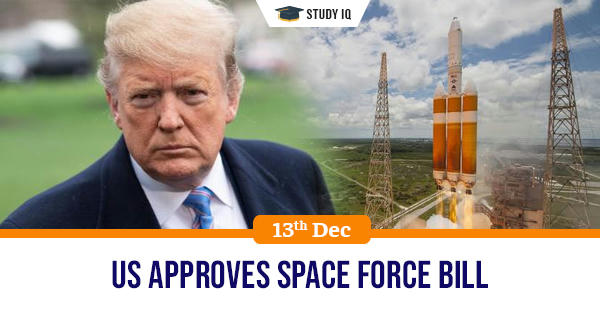 US approves Space Force Bill
Date: 13 December 2019
Tags: Miscellaneous
Issue
The U.S. House of Representatives approved a defense policy bill providing the first paid family leave for all federal workers and the creation of a Space Force, a top military priority for President Donald Trump.
Background
The establishment of the U.S. Space Force as the sixth Armed Service of the United States, under the Air Force, fulfills one of Trump's most high-profile requests.
Details
The United States Space Force (USSF) is the anticipated space warfare service branch of the United States Armed Forces.

It will be the sixth branch of the United States Armed Forces and the eighth U.S. uniformed service.

It will be organized as a military service branch within the Department of the Air Force, one of the three military departments within the Department of Defense.

Once established, the U.S. Space Force is intended to become the lead military service for space operations, responsible for space doctrine, organization, training, matériel, leadership and education, personnel, facilities, and policy.
Functions
As described in the Space Force Act, the U.S. Space Force will be organized, trained, and equipped to:
"Provide freedom of operation for the United States in, from, and to space"

"Provide prompt and sustained space operations"
Duties
The duties of the Space Force include:
"Protect the interests of the United States in space"

"Deter aggression in, from, and to space"

"conduct space operations"