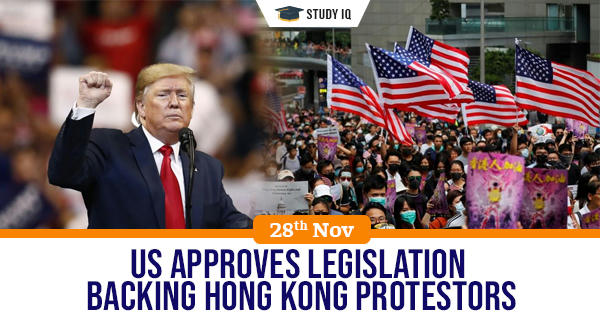 US approves legislation backing Hong Kong protestors
Date: 28 November 2019
Tags: Miscellaneous
Issue
U.S. President Donald Trump signed into law congressional legislation backing protesters in Hong Kong, despite angry objections from Beijing.
Background
Congress passed a second bil, banning the export to the Hong Kong police of crowd-control munitions, such as teargas, pepper spray, rubber bullets and stun guns.
Details
The new legislation, approved unanimously by the U.S. Senate and by all but one lawmaker in the House of Representatives last week, requires the State Department to certify, at least annually, that Hong Kong retains enough autonomy to justify favorable U.S. trading terms that have helped it maintain its position as a world financial center. It also threatens sanctions for human rights violations.

Officials responsible for human rights violations in Hong Kong could also be subject to sanctions, including visa bans and asset freezes.

The law has potential to completely upend relations between the United States and Hong Kong and change the territory's status to that of any other Chinese city.

From a business perspective, one of the most important elements of Hong Kong's special status has been that it is considered a separate customs and trading zone from China. Trade-war tariffs don't apply to exports from Hong Kong.
Hong Kong
Hong Kong, officially the Hong Kong Special Administrative Region of the People's Republic of China, is a special administrative region on the eastern side of the Pearl River estuary in southern China.
Currency: Hong Kong dollar