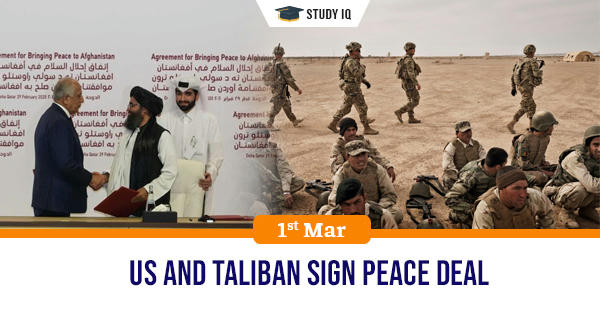 US and Taliban sign peace deal
Date: 01 March 2020
Tags: Miscellaneous
Issue
The United States signed a historic deal with Taliban insurgents on that could pave the way toward a full withdrawal of foreign soldiers from Afghanistan over the next 14 months and represent a step toward ending the 18-year-war there.
Background
While the agreement paves the way for the United States to gradually pull out of its longest war, many expect that talks to come between the multiple Afghan sides will be far more complicated.
Details
For U.S President Donald Trump, the deal represents a chance to make good on his promise to bring U.S. troops home. But security experts have also called it a foreign policy gamble that would give the Taliban international legitimacy.

The United States has agreed to withdraw American troops from Afghanistan in exchange for assurances by the Taliban that it will deny sanctuary to terrorist groups like Al Qaeda.

Senior members of the Afghan government and countries surrounding Afghanistan have been concerned that the United States could abandon Kabul much like it was perceived to have left the region after the Soviet Union exited Afghanistan decades ago.

The war, which has killed tens of thousands of people, began when the United States launched attacks on Afghanistan just weeks after the Sept. 11, 2001, attacks on New York and Washington by the Afghanistan-based al Qaeda militant group.

Washington accused the Taliban of harbouring al Qaeda and its leader Osama bin Laden, and with its allies ousted the group from power. But the Taliban has remained a potent force and currently controls about 40% of Afghan territory.

There are questions about whether Taliban fighters loyal to hardline Islamist splinter groups will be willing to adhere to the reduction in violence agreement.

The Taliban refuses to recognize Afghanistan's democratic government. The goal of their insurgency has been returning to power and establishing rule based on their view of Islam.

Other major issues, including women's rights and civil liberties, are also at stake. Many Afghan women have expressed concern that they have been sidelined from the process, and they fear that protections created for them over the past 18 years could be bargained away to the ultraconservative Taliban movement.

The reduction in violence is expected to continue into the next phase of the process, until the two Afghan sides can agree to a more comprehensive cease-fire.