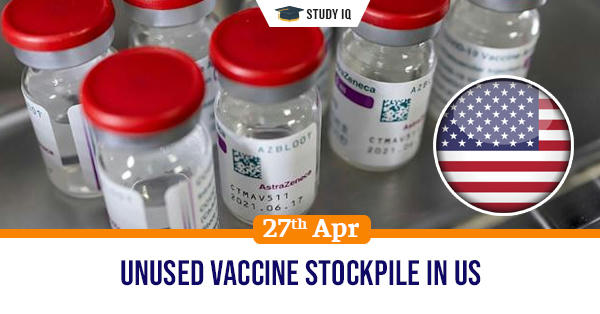 Unused vaccine stockpile in US
Date: 27 April 2021
Tags: Miscellaneous
Issue
US has been accused of stockpiling large number of doses of AstraZeneca vaccine even though it has no immediate plans to use them.
Background
India has been witnessing a second wave of Covid-19 that has crippled healthcare system including essential medicines.
Details
Researchers from across the globe have urged the Biden administration to release its vaccine reserve to countries like India and Brazil.

There is a strong belief that about 35 million doses are stockpiled by the US which it does not intend to use.
Reason for non-usage
AstraZeneca has a deal with US government to deliver vaccines. However, the concerns due to blood clots in younger women in Europe have stoped its approval.

The vaccine is yet to receive emergency approval and while it gains approval, American adults will have already received a vaccine.
Pressure on US
There has been increasing pressure on the US to exempt India from the Defence Production Act to allow the export of raw materials.

International groups have urged the US and other countries to support waive off patents at the World Trade Organization to increase production.
Future concerns
Stopping of vaccine exports by India will have effects on African nations and other developing countries.