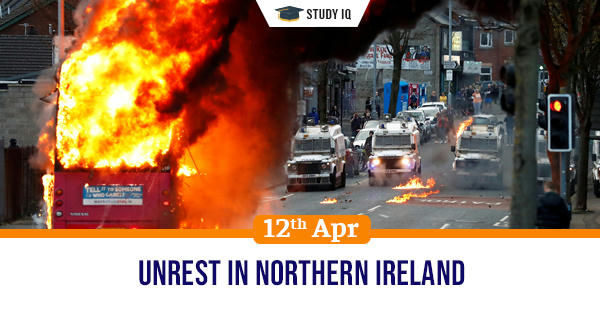 Unrest in Northern Ireland
Date: 12 April 2021
Tags: Miscellaneous
Issue
Large number of people are indulging in protests in Northern Ireland. They have resorted to hurling fireworks, bricks at police.
Background
The situation has reminded the people of Catholic-Protestant conflict, known as "The Troubles". A 1998 peace deal reduced these tensions.
Details
Northern Ireland is part of the island of Ireland but politically it is part of United Kingdom. The Republic of Ireland became free after years of colonisation by the British.

Roman Catholic majority areas became free from control and formed independent Ireland. Protestant areas in North remained part of UK as Northern Island.

The Roman Catholic minority started conflict with the government through an armed insurgency that resulted in bombings and violence.

The British army was deployed to maintain peace but were opposed by Irish Republican army that aimed to merge north and the south of Ireland.

The conflict resulted in large number of civilian deaths in Northern Ireland mostly through bombings. There were also sign of violence in London and other parts.
End of conflict
The Good Friday accord of 1998 made paramilitary forces lay down their arms. It also established a power sharing agreement between Protestants and Catholics for governing Northern Ireland.

Northern Ireland would remain part of United Kingdom until the majority wish. There were no details on referendum of reunification.
Eruption of violence
The violence has been majorly observed in protestant areas but has since spread to Catholic majority areas.

The major concern is regarding Brexit where protestant unionists are in favour whereas catholic nationalists are against it.

The move to open border for movement of people and goods between Northern Ireland and Republic of Ireland is opposed by Union supporters.

There is a belief that this move will create fissures in politics of Northern Ireland and issue of referendum may arise soon.