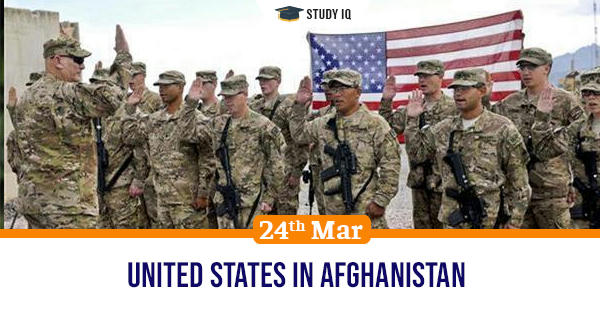 United States in Afghanistan
Date: 24 March 2021
Tags: Miscellaneous
Issue
United States has been fighting a war in Afghanistan from the past two decades. The government has contemplated exit may times but has not materialised owing to chances of instability.
Background
The Afghanistan war was a result of 9/11 attacks on USA. The government aimed to defeat the Taliban and establish peace in the region. This has however failed to take place.
Details
Following the 9/11 attacks, the US recognised Osama Bin Laden as the perpetrator of the attack. It invoked Article 5 for the first time in NATO's history.

About 60 countries sent their troops according to the treaty to fight in an operation called 'Operation Enduring Freedom'.

US president George W Bush announced air strikes on Afghanistan to disrupt use of the country as a military base of Taliban and punish them for failing to turn in Osama Bin Laden.

Following the series of attacks by NATO forces, the regime collapsed and many Taliban leaders fled to neighbouring Pakistan.

A new US-backed government took over the control of the country but still Taliban survived around the border areas of Afghanistan and Pakistan.

After a period of setback, the Taliban recovered its strength and attacked allied forces by using innovative counter-attacks such as suicide bombing.
Post active war
The NATO forces announced their withdrawal from Afghanistan in 2014. The withdrawal created a vacuum that was quickly occupied by Taliban forces.

Taliban has been actively increasing its presence across the country. As of now, Taliban has a presence in over 70% of the country.

President Obama started the process of US troops withdrawal after killing of Osama Bin Laden in Pakistan. The fear of return of militancy prompted him to keep small number of troops in the country.

President Trump posted additional troops in the country and later stuck a deal with Taliban for peace and to bring an end to never-ending war.
Long lasting war
The withdrawal of NATO troops, inability of the civilian government to provide good governance, failure of Afghan military to increase their strength all combined to help rise of Taliban.

The Taliban has been actively supported by civilian population and also several governments such as Pakistan and Russia.

Despite the peace process, the end to the war looks war from possible with rise in militancy and more brutal groups such as Islamic State.