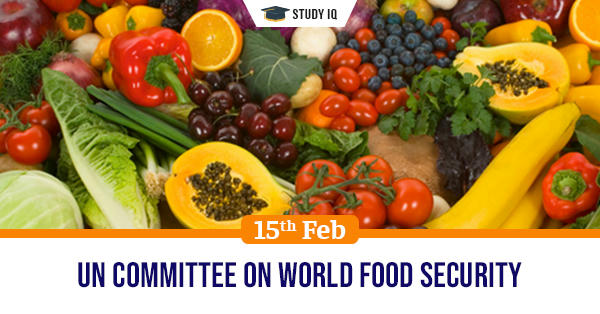 UN committee on World Food Security
Date: 15 February 2021
Tags: Miscellaneous
Issue
The first-ever voluntary guidelines on food systems and nutrition meant to end hunger and malnutrition were endorsed by members of the Committee on World Food Security (CFS).
Background
The guidelines are intended to build upon and complement the work and mandate of other international bodies.
Details
The Committee on World Food Security (CFS) was established in 1974 as an intergovernmental body to serve as a forum in the United Nations System for review and follow-up of policies concerning world food security including production and physical and economic access to food.

The CFS has a permanent Secretariat located in Food and Agriculture Organization of the United Nations (FAO) headquarters in Rome, Italy which includes members from the World Food Programme (WFP) and the International Fund for Agricultural Development (IFAD).

CFS develops and endorses policy recommendations and guidance on a wide range of food security and nutrition topics.

They call for realisation of the right to adequate food in the context of national food security for all, particularly for the most vulnerable and affected groups.

They focus on policy planning and governance so that food systems can be made more resilient and responsive and are in accordance with needs of consumers and producers too, especially small and marginal farmers.
Functions
Coordinate a global approach to food security

Promote policy convergence

Support and advice countries and regions

Coordinate at national and regional levels

Promote accountability and share best practices

Develop a global strategic framework for food security and nutrition