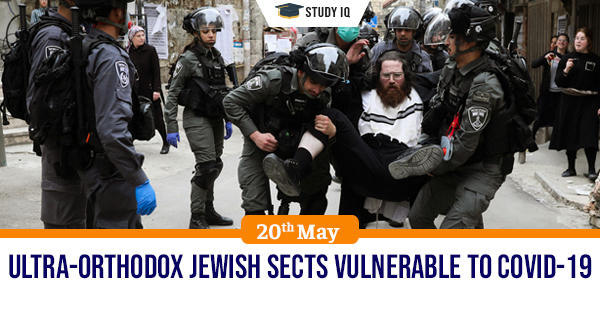 Ultra-orthodox Jewish sects vulnerable to COVID-19
Date: 20 May 2020
Tags: Miscellaneous
Issue
Three weeks after Israel marked its first COVID-19 infection on February 21, the country witnessed a spike in infections particularly in the densely populated city of Bnei Brak, where there is a large population of Orthodox and ultra-Orthodox Haredi Jews.
Details
Videos on various platforms showed that police and security officials were subjected to slurs and accusations, being called 'Nazis' and 'Communists' by some radical Haredi Jews.

Some other reports showed these altercations becoming physical, and how in some cases, young Haredi boys were retaliating against these public health rules by spitting on officials.

Most of these incidents of violence have been recorded in neighbourhoods with large Haredi populations in Jerusalem and in the nearby city of Beit Shemesh.

In New York, where there is a large population of Orthodox Jews, there have also been incidents of conflict between members of the community and police.

Orthodox Jewish communities in and around New York were among the first to record COVID-19 infections. Despite the implementation of public health orders in New York, several Jewish weddings and funerals had taken place.

Members of the Jewish community felt that they were being unfairly singled out due to the actions of some people in the community.

Some members of the community believe that the controversy concerning violations of health rules by Orthodox Jews, including their reluctance to vaccinate, is unfairly inflated and highlighted in the news.

The spike in cases happened in part due to the lifestyles that the Haredim (Orthodox Jews) follow, that are characterised by segregation, them largely containing themselves within their own neighbourhoods and cities.

The ultra-Orthodox Jews also do not use the Internet, smartphones, mass media, social media and other information sources and rely on their own community members for it. Government officials also do not do much to communicate with them.

Among Orthodox and ultra-Orthodox Jewish communities, religious schools or yeshivas play an important role, along with Torah learning and public prayers. Boys live in dormitories in close proximity in these yeshivas, with Torah learning taking up most of their time.

When Israel's government suggested closing these religious schools to curb the spread of COVID-19, it caused consternation among the community members.

The hostility towards Israel's government is, in fact, long-standing. Members of the ultra-Orthodox Jewish community are anti-Zionist and according to their religious belief, they believe they are prohibited from following a secular government.

There have been other instances of conflict between the Israeli government and these communities in the past, on other issues such as compulsory military conscription in the country.