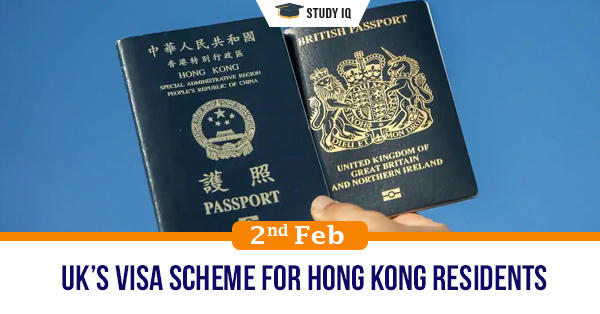 UK's visa scheme for Hong Kong residents
Date: 02 February 2021
Tags: Miscellaneous
Issue
The UK is opening a special visa scheme that will allow Hong Kong residents a chance to migrate and eventually apply for British citizenship.
Background
The move comes months after China imposed a sweeping national security law over the former British colony.
Details
The visas will be issued to those in Hong Kong who hold a British National (Overseas) passport and their immediate dependents, and will offer a fast track to UK citizenship.

Applicants who get the visa can live and work in the UK for 5 years, after which they apply for settlement. After twelve months, they can apply for citizenship.

To avoid applying for the visa in person, the BN (O) holders would be able to apply through a smartphone app from February 23.

There is no minimum salary requirement for those wanting to move but it is necessary to first secure a job in the UK before migrating.

The move is considered the UK's most generous welcoming of foreign workers since the entry of new EU citizens in 2004 — when 10 countries were added to the bloc.
Reason for the scheme
China has implemented its far-reaching new national security law for Hong Kong, greatly expanding Beijing's power in the city.

Under the law, four widely defined offences can invite life imprisonment as the maximum punishment, followed by lesser penalties.
China's reaction
China criticised the UK move. It also said that it would no longer be recognising BN (O) passports.

It is still unclear how this could deter Hong Kongers from leaving, since city residents are usually known to use Hong Kong passports while leaving for another country.

The BN (O) passport can only be used while arriving in the UK, or in any other country that recognises the document.