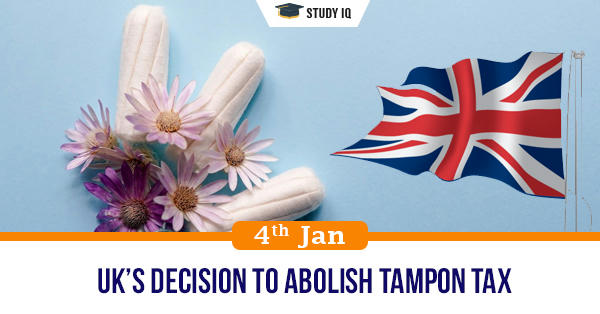 UK's decision to abolish tampon tax
Date: 04 January 2021
Tags: Miscellaneous
Issue
The UK has abolished a 5 percent Value Added Tax (VAT) on women's sanitary products, often referred to as the "tampon tax".
Background
It now joins the list of countries which have already eliminated this tax, which includes India, Australia, and Canada.
Details
The measure had been promised by the British Chancellor of the Exchequer Rishi Sunak, and is part of a wider UK government effort called 'End Period Poverty'.

Until December 31, the UK was a part of the EU, where period products such as sanitary napkins and tampons are classified as non-essential, and member states are required to levy a 5 percent tax on them.

The EU itself has been in the process of removing the tax on period products. In 2018, the bloc published proposals to change the tax rules, but these are yet to be accepted by all members.

In the Republic of Ireland, there is no VAT on such products despite the country being an EU member. This is because Ireland's tax rates were in place before the EU imposed its own tax laws.

Scotland, which is a part of the UK, made history in November 2020 by becoming the first country in the world to make period products free of cost to those who need them.

The British government has estimated that the move to abolish the tampon tax would save the average woman about 40 pounds during her lifetime.