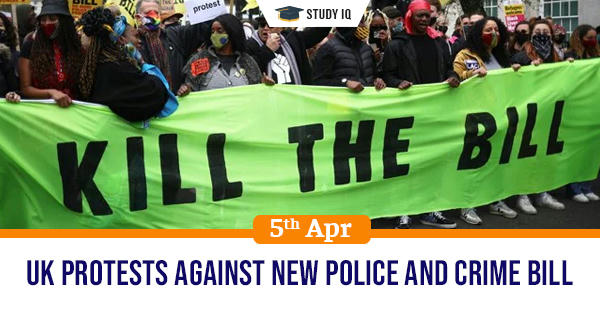 UK protests against new police and crime bill
Date: 05 April 2021
Tags: Miscellaneous
Issue
Large number of citizens in UK have been protesting against a legislation known as the Police, Crime, Sentencing and Courts Bill 2021.
Background
The country has been marred with large and wide-scale protests that have accused the government to be hard-liner.
Details
The bill will allow the police to take a more proactive way in managing highly disruptive protests that can cause serious disruption to the public.

Currently, the government is using the Public Order Act 1986 to manage protests that take place in the country.
Reason for the law
The existing legislation is not considered suitable to manage the variety and nature of protests that have been taking place.

The "April Uprising" that took place in London in 2019 could not be effectively controlled and caused damages up to £16 million.
Details of the bill
The new provisions will allow police to increase the conditions that can be put on static protests in addition to existing powers to impose conditions on marches.

Police will get powers to impose certain conditions such as start and finish times and maximum noise levels that can be allowed during static marches.

The bill will also broaden the situations on which the police can impose conditions on a protest, including single ones.

The bill also brings an offence of public nuisance that prohibits producing excessive noise or smells, or offensive or dangerous behaviour.
Criticism
Public have criticised the bill as a way to put more restrictions on the right of people to hold peaceful protests.

The bills have put serious conditions while protesting and people not following the rules can be imprisoned for a period of up to ten years.