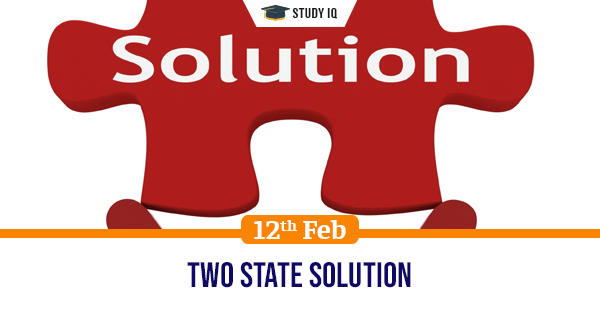 Two state solution
Date: 12 February 2021
Tags: Miscellaneous
Issue
The incumbent US administration of Joe Biden has assured Palestine of Two State solution at United Nations.
Background
The two-state solution would establish an independent Palestinian state alongside Israel, which effectively means two states for two peoples.
History
After the fall of the Ottoman Empire, Jews and Arabs both claimed the right to self-determination in historical Palestine.

A first attempt at partitioning the land in 1948 resulted in an Israeli state but no Palestinian state, and the West Bank and Gaza Strip fell under Jordanian and Egyptian rule, respectively.

In the Six-Day War of 1967, Israel captured and occupied the West Bank, the Gaza Strip, and other Arab territories, which in the aftermath led to the idea that Israel would exchange land it had captured for peace with its Arab neighbour

Over the following decades, waves of Jewish immigration to Palestine led to a significant increase in the Jewish population.

In 1947, as the United Kingdom prepared to withdraw from the region, the United Nations passed a partition plan (known as UN Resolution 181) that would divide Palestine into a Jewish state and an Arab state.
Details
In 1993 the Israeli government and the Palestine Liberation Organization (PLO) agreed on a plan to implement a two-state solution as part of the Oslo Accords, leading to the establishment of the Palestinian Authority (PA).

In theory, this would win Israel security and allow it to retain a Jewish demographic majority (letting the country remain Jewish and democratic) while granting the Palestinians a state.

Most governments and world bodies have set achievement of the two-state solution as official policy, including the United States, the United Nations, the Palestinian Authority and Israel.
Benefits of Two state solution
It would bring a peaceful solution to one of the major problems of the world in modern times.

It would uphold rights of Jewish people to co-exist with its Arab neighbours. Rights of both the groups will be upheld.

It would also prevent radicalisation of the region. Terrorist groups like PLA and Hamas will be reined in.
Issue in implementation
There is no consensus about precisely where to draw the line. Generally, most believe the border would follow the lines before the Arab-Israeli war of 1967, but Israel has extended its territory extensively.

Both sides claim Jerusalem as their capital and consider it a centre of religious worship and cultural heritage. There is no consensus regarding its division.

The Palestinian leadership is divided between two governments that cannot come to consensus.