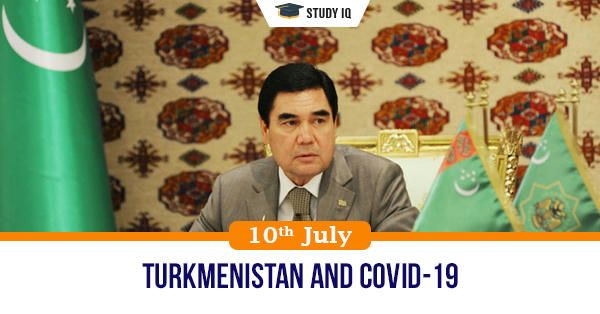 Turkmenistan and covid-19
Date: 10 July 2020
Tags: Miscellaneous
Issue
Since the start of the COVID-19 outbreak, Turkmenistan in Central Asia is among the few countries that have not recorded any case of coronavirus infections.
Background
For the past few months, public places like cafes and restaurants have been operating as well as gatherings of large crowds during events like weddings and mass public events, without the use of face masks.
Details
In early February, Turkmenistan cancelled flights to China and other nations with high rates of COVID-19 infections.

It also diverted all incoming international flights to Turkmenabat, the country's second-largest city where a special quarantine zone was created to check passengers for symptoms.

However, locals had reported that some passengers had been able to bribe their way out of the quarantine zone and avoid the mandatory two-weeks of isolation.

In March, Turkmenistan reportedly closed most of its land borders as well to curb the entry of incoming passengers.

Passengers flying into Turkmenistan were being tested for COVID-19 but there were no available figures to show the exact number of tests being conducted.

The report suggested that hospitals in the country had also been preparing for potential coronavirus cases and movement between cities in the country has been restricted.

The WHO can only conduct assessment following permission from governments of the countries in question. In April, the WHO indicated that Tajikistan and Turkmenistan had both invited WHO for assessment, but while the organization's representatives proceeded to Tajikistan, the visit to Turkmenistan did not materialise due to unspecified reasons.

Despite the ongoing visit by WHO officials in Turkmenistan, researchers have said that the international organization has not given any public updates concerning investigations that it may have conducted since the mission's arrival in the country.

The country's health ministry also issued health advice that recommended rinsing the mouth with saltwater and using yuzarlik, an herb used in traditional medicine, recommended by the country's president.