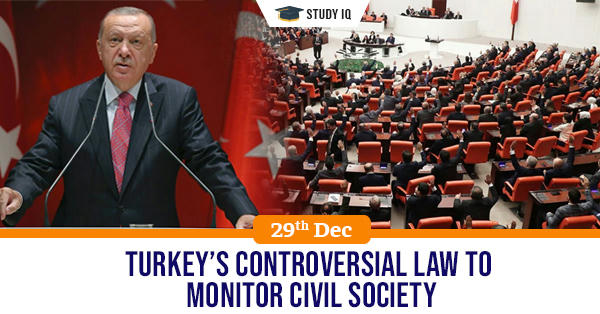 Turkey's controversial law to monitor civil society
Date: 29 December 2020
Tags: Miscellaneous
Issue
The Turkish parliament has passed a new bill that would increase the monitoring of civil society groups in the country.
Background
The Bill has come following the 2019 report on Turkey prepared by the intergovernmental body Financial Action Task Force (FATF) meant to fight money laundering and terror financing.
Details
The act is called "Preventing Financing of Proliferation of Weapons of Mass Destruction" and was proposed by president Erdogan in order to comply with UN Security Council's recommendations to keep terror financing and money laundering in check.

Critics are seeing certain provisions of the bill as arbitrary and believe that it violates the provisions under the Turkish constitution since it interferes with the right to freedom of association.

The bill consists of 43 articles and has made changes to seven laws on Turkey's Law of Associations and is meant to keep Turkey from being blacklisted by the Paris-based watchdog of terror financing.

The Bill gives the Turkish government the power to appoint trustees to non-governmental organisations (NGOs), to suspend their activities, seize their assets and monitor their sources of funding.

The Turkish authorities have been carrying out a crackdown on the alleged followers of US-based Muslim cleric Fethullah Gülen, who Erdogan has long accused of plotting the 2016 coup.

Critics and human rights activists are seeing this move as a way to crack down on dissidents in a country where civil society is already not very free.
FATF
The Financial Action Task Force (FATF) is the global money laundering and terrorist financing watchdog. The inter-governmental body sets international standards that aim to prevent these illegal activities and the harm they cause to society.

The organisation was founded in 1989 on the initiative of the G7 to develop policies to combat money laundering. In 2001, its mandate was expanded to include terrorism financing.

Since 2000, FATF has maintained the FATF blacklist (formally called the "Call for action") and the FATF greylist (formally called the "Other monitored jurisdictions").