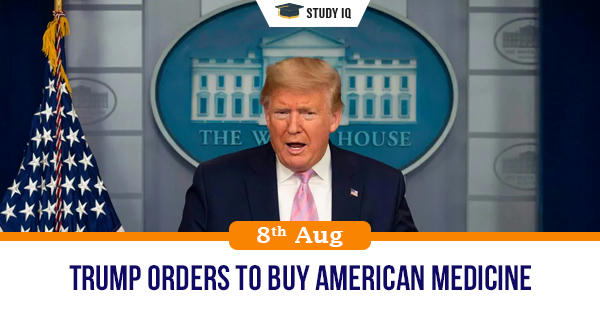 Trump orders to buy American medicine
Date: 08 August 2020
Tags: Miscellaneous
Issue
US President Donald Trump has signed an order aiming to boost domestic production of "essential medicines" and "critical" drug inputs.
Background
India is one of the largest producer and supply of generic medicine and US is India's largest customer for general medicine. This move will impact Indian manufacturers.
Details
The order mandates the creation of a list of essential medical products and directs the fast-tracking of regulatory clearances for domestic producers.

Federal agencies are to consider a "variety" of actions to increase their procurement of such products and their critical ingredients from domestic sources while protecting the country's service members, veterans and their families from increases in drug prices.

They also have to ensure that the measures they implement do not interfere with America's ability to respond to the Covid-19 outbreak.

The US, like most countries, is dependent on countries like China and India for critical products like medicines. This dependence put the Trump administration in a tight spot during the pandemic, which highlighted the extent of their presence in global supply chains.

When Trump began touting hydroxychloroquine as a 'miracle' in Covid-19 treatment, India was found to be the largest supplier. Like India, the US seems to have realised the need to maintain domestic capacities of essential medicines.

Unlike China, which is heavily present in the global pharmaceutical supply chain as a producer of key drug ingredients, India is known as an exporter of finished pharmaceutical products. Its generic drugs are popular in the US due to their low cost, which makes them more affordable.

Regardless of the motive, in the short term, the order is not likely to impact Indian pharmaceutical firms, they say. A major reason is that Indian drugs are "largely" not involved in US public procurement processes.

The order will not apply in cases where procuring domestic essential medicines will bring costs for the agency up over 25%. Nor does it apply in cases where there are no sufficient domestic alternatives.