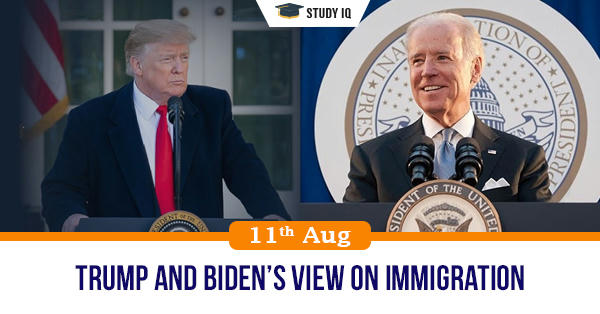 Trump and Biden's view on immigration
Date: 11 August 2020
Tags: Miscellaneous
Issue
US President Donald Trump's push to crack down on illegal immigration and reshape legal immigration was at the heart of his winning 2016 campaign and has remained at the forefront of his White House agenda.
Background
Former Vice President Joe Biden, the likely Democratic challenger in this year's presidential election has promised to reconsider many of the policies put in place by Trump's administration.
Details
Trump has dramatically curtailed immigration and travel into the United States during the coronavirus pandemic, arguing the steps were needed for health reasons and to protect jobs for US workers in the face of high unemployment.

During the pandemic, Trump has restricted the entry of many foreign workers and immigrants seeking "green cards" for permanent residency.

Biden has accused that Trump was banning immigrants to distract from his administration's pandemic response and that immigrants help grow economy and create jobs.

Biden has said he will pause deportations for 100 days after taking office, but his campaign did not comment on the coronavirus-related border rules.

The Supreme Court ruled in June against Trump's 2017 decision to end the Deferred Action for Childhood Arrivals (DACA) program, which protects from deportation immigrants popularly known as "Dreamers," who were brought to the United States as children and have remained in the country illegally.

Biden has said he would reverse Trump's "cruel" decision and strengthen protections for Dreamers.

Trump's promises to build a wall along the southwest border and to force Mexico to pay for it were the centerpiece of his hard-line immigration rhetoric.

The administration has completed 265 miles of a border wall, with a goal of 450 miles by the end of the year, but nearly all of those barriers replaced existing structures. Mexico has refused to pay for any of the construction.

Biden would want to end the diversion of Pentagon funding to build the wall and focus instead on border enforcement like investments in improving the screening infrastructure at ports of entry.

Trump signed an order banning entry to immigrants from seven Muslim-majority countries, a move Biden and other critics said discriminated against Muslims.

Trump placed restrictions on six additional countries in January, including Nigeria and three other African nations.

Biden has promised to rescind the bans, calling them an abuse of power designed to target primarily black and brown immigrants.