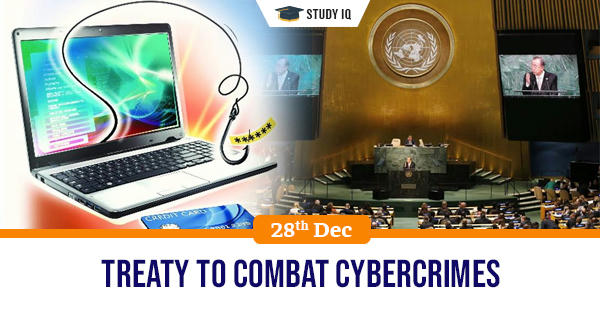 Treaty to combat cybercrimes
Date: 28 December 2019
Tags: Miscellaneous
Issue
The U.N. General Assembly has approved a resolution that will start the process of drafting a new international treaty to combat cybercrime over objections from the European Union, the United States and other countries.
Background
The Russian-drafted resolution was approved by the 193-member world body by a vote of 79-60 with 33 abstentions.
Details
The resolution establishes an expert committee representing all regions of the world to elaborate a comprehensive international convention on countering the use of information and communications technologies for criminal purposes.

Parties say that this resolution will undermine international cooperation to combat cybercrime at a time when enhanced coordination is essential.

The resolution requires that the new committee must take into account the results of the work of the expert group on cybercrime.
Convention on Cybercrimes
The Convention on Cybercrime, also known as the Budapest Convention on Cybercrime or the Budapest Convention, is the first international treaty seeking to address Internet and computer crime (cybercrime)by harmonizing national laws, improving investigative techniques, and increasing cooperation among nations.

It was drawn up by the Council of Europe in Strasbourg, France, with the active participation of the Council of Europe's observer states Canada, Japan, Philippines, South Africa and the United States.

Important countries like Brazil and India have declined to adopt the Convention on the grounds that they did not participate in its drafting.

Russia opposes the Convention, stating that adoption would violate Russian sovereignty, and has usually refused to cooperate in law enforcement investigations relating to cybercrime. It is the first multilateral legally binding instrument to regulate cybercrime.

The following offences are defined by the Convention: illegal access, illegal interception, data interference, system interference, misuse of devices, computer-related forgery, computer-related fraud, offences related to child pornography, and offences related to copyright and neighbouring rights.
Objectives
The Convention aims principally at:
Harmonising the domestic criminal substantive law elements of offences and connected provisions in the area of cyber-crime.

Providing for domestic criminal procedural law powers necessary for the investigation and prosecution of such offences as well as other offences committed by means of a computer system or evidence in relation to which is in electronic form.

Setting up a fast and effective regime of international cooperation.