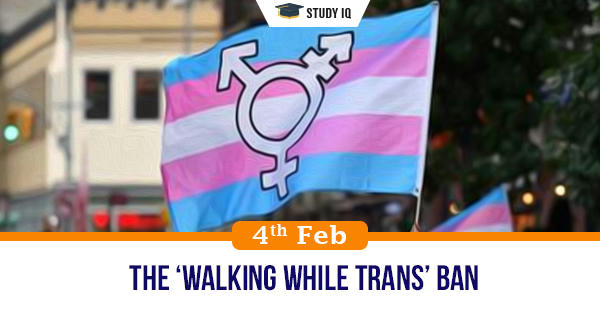 The 'Walking While Trans' ban
Date: 04 February 2021
Tags: Miscellaneous
Issue
New York Governor has signed a bill repealing a controversial law known as the "Walking While Trans" ban.
Background
The law has been widely criticised for disproportionately discriminating against transgender people of colour.
Details
'Walking While Trans' ban is the colloquial name for a law, which was originally passed in 1976 with the intention of prohibiting loitering for the purpose of prostitution.

The law is widely criticised for its vagueness as it allows New York police to arrest or apprehend someone walking on the street if they suspect that they are sex workers.

While the law is mostly used against women, several men have also been arrested or detained. But the law is known for disproportionately impacting trans-women, especially trans-women of colour.
Discriminatory law
Between 2012 and 2015, at least 85 per cent of those arrested under the law were Black or Latino people.

In 2019 alone, 91 per cent of people arrested under the law belonged to these two groups, and around 80 per cent identified as women.

The law permits the police to stop-and-frisk trans-women of colour and other marginalised groups for simply walking down the street.