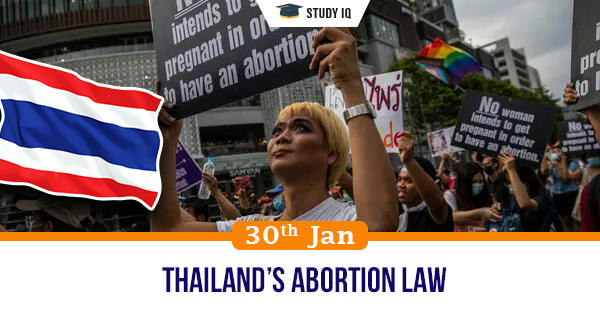 Thailand's abortion law
Date: 30 January 2021
Tags: Miscellaneous
Issue
Thailand's Parliament has voted to make abortion during the first 12 weeks of pregnancy legal in the country.
Background
Before this, abortion was illegal in the country, regardless of the duration of the pregnancy, and was allowed only in limited circumstances.
Details
The opposition to abortion comes mainly from Thailand's majority of conservative Theravada Buddhists who believe that abortion goes against the teachings of Buddhism.

Thailand's constitutional court called the provision dealing with abortion, which is under the country's criminal code, unconstitutional.

As per this provision, women who got an abortion could be imprisoned for up to three years and those who performed them could be imprisoned for up to five years.

As per the new amendments, women can get an abortion if the age of the foetus is up to 12 weeks. But if a woman gets an abortion after 12 weeks, she can face being imprisoned for up to 6 months.

A pregnancy can be terminated beyond the permitted period of time if it poses a threat to the mother's physical or emotional health, if the foetus is known to have abnormalities or if the pregnancy is the result of a sexual assault.
Criticism
While the amendments signal some progress, pro-choice activists in Thailand are still not convinced and continue to demand the complete decriminalisation of abortion.

Human Rights Watch has also called for complete decriminalisation of abortion so that women can fully exercise their reproductive rights.
Abortion law changes in India
In India, the Union Cabinet cleared changes to the Medical Termination of Pregnancy Act, 1971 early last year.

These changes raised the legally permissible limit for an abortion to 24 weeks from the previously legal 20 weeks.

The change also accepted the failure of contraception as a valid reason for abortion, not just in married but in unmarried women as well.