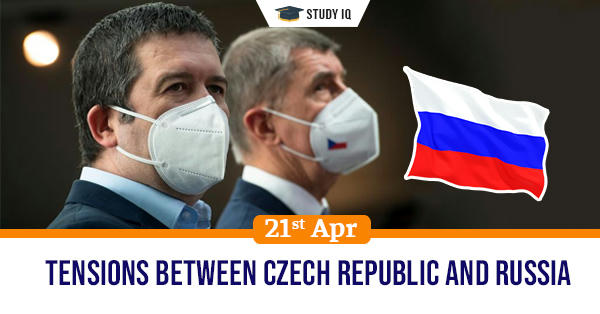 Tensions between Czech Republic and Russia
Date: 21 April 2021
Tags: Miscellaneous
Issue
Russia has expelled diplomats of Czech Republic as a counter measure against expelling of its own diplomats from Prague.
Background
The Czech government had accused the Russian diplomats as intelligence operatives who were involved in terrorism related activities.
Details
Last year, Russia was accused of poisoning Czech politicians including Mayor of Prague leading to expelling of their diplomats.

Russian intelligence operatives were involved in a bomb blast of stored explosives in a wooded part of the country that resulted in death of two individuals.

Czech authorities investigated the case and found the involvement of Unit 29155 of Russia's GRU intelligence agency.

There was belief that the ammunitions were headed to either Crimea or Syrian government to fight opposition forces.

The individuals linked with the blast were found to be same who were accused in poisoning of a Russian double agent in United Kingdom.
Future concerns
The escalation between Czech and Russia is said to be the most serious since 1989. It also signals worsening relations between the West and Russia.

US has also toughened its stance on Russia. It had accused Russia of involvement in SolarWinds hack and interfering in the 2020 election.