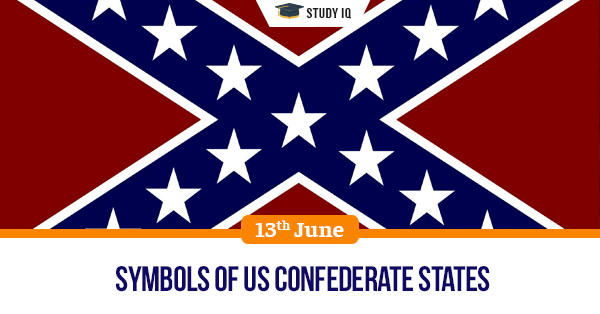 Symbols of US Confederate states
Date: 13 June 2020
Tags: Miscellaneous
Issue
US President Donald Trump has said he will not consider renaming military bases named after Confederate generals, after such demands arose amid the Black Lives Matter protests.
Background
Amid the anti-racism protests, some of the participants have demanded the removal of statues or monuments that can be perceived as symbols of racism, including Confederate monuments.
Details
Not only in the US, but in the UK as well, the statue of noted slaveholder Robert Milligan was removed from outside the Museum of London Docklands. Similarly, anti-racism protestors removed the statue of slave trader Edward Colston in Bristol.

The Confederate States of America or the Confederacy refers to the government of 11 Southern slaveholding states that seceded from the Union in 1860-61 in the American Civil War, after they felt threatened by the election of Republican candidate Abraham Lincoln as the US President in 1860.

These pro-slavery states operated under the Presidentship of Jefferson Davis and vice president Alexander Stephens. Soon, the Confederacy acquired symbols such as the Confederate flag and their own stamps.

These states carried out all their affairs separately until they were defeated in 1865. States that were a part of the Confederacy included South Carolina, Mississippi, Florida, Alabama, Georgia and Texas, among others.

The flag, which is used to honour the Confederates who died in the Civil War, is seen by many white supremacists as a symbol of Southern pride.

Confederate names and symbols can be found on commemorative licence plates, public schools, statues, military bases, parks, roads and counties.

There are over 220 Confederate symbols in the state of Virginia alone, which include three military bases named after Confederate war heroes.